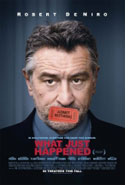 Inside Hollywood (What Just Happened)
U.S.A. 2007
Opening 26 Mar 2009
Directed by: Barry Levinson
Writing credits: Art Linson
Principal actors: Robert De Niro, Bruce Willis, Stanley Tucci, John Turturro, Kristen Stewart
Director Barry Levinson (Rain Man, Good Morning Vietnam), brings together a cast of Hollywood heavy-weights, including Robert de Niro, John Turturro, and Stanley Tucci, as well as Bruce Willis and Sean Penn playing themselves, to show us life behind the scenes in Hollywood. The screenplay was written by Art Linson, based on his autobiography.
Two weeks in the life of big shot Hollywood producer Ben (de Niro) give the viewer a glimpse at the not-so-glamorous side of movie making. The stress is on-going from endless appointments which are never kept on time, to dealing with a prima donna star who refuses to shave his beard (Willis), a psychotic agent (Turturro), the uncompromising director Jeremy Brunell (Michael Wincott), and another broken marriage.
Miraculously, situations that appear headed for disaster are resolved one after the other, well, with one major exception. Ben's most recent movie opens the Cannes Film Festival – an experience that will change his standing in Hollywood forever – at least for a while: in Hollywood things change dramatically from one day to the next.
What Just Happened is a high-paced story that may well make the viewer rethink his or her ideas about Hollywood glamour; and this is the factor that leaves me wondering about its appeal for a broader audience. For people in any area of the business, it will probably be pretty entertaining, even if the Cannes denouement seems rather unlikely. (Osanna Vaughn)