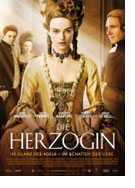 Opening 26 Mar 2009
Directed by: Saul Dibb
Writing credits: Jeffrey Hatcher, Anders Thomas Jensen, Saul Dibb, Amanda Foreman
Principal actors: Keira Knightley, Ralph Fiennes, Charlotte Rampling, Dominic Cooper, Hayley Atwell
Keira Knightly (Pride and Prejudice, Pirates of the Caribbean) and Ralph Fiennes (The Reader, The English Patient) star in this historical drama based on the life of Georgiana Spencer, Duchess of Devonshire. The film is based on Amanda Foreman's renowned biography, Georgiana, Duchess of Devonshire, and is directed by Saul Dibb. Screenplay by Jeffrey Hatcher, Anders Thomas Jensen and Saul Dibb.
In 1774, at 17 years of age, Georgiana Spencer (Knightly) was given into an arranged marriage to William Cavendish, Duke of Devonshire (Fiennes). The agreement stipulated that Georgiana should bear the duke a son, at which point she would be richly rewarded. Georgiana's beauty and charm make her extremely popular, and her fashion sense set the style and trends of the day; but behind the gorgeous façade is a woman who suffers in the loneliness of a loveless marriage, worsened by her apparent inability to give birth to a boy. Georgiana meets Bess Foster (Hayley Atwell), whose sad personal story of abandonment resonates with the duchess. Georgiana invites her new friend and confidante to live at Devonshire house; but the relationship is destined to be shattered when the duke begins a passionate affair with Bess.
When Georgiana finally gives birth to a son, she feels she has fulfilled her duty. To give meaning to her life, she throws herself into politics as well as the arms of Lord Charles Grey (Dominic Cooper), a dear friend of her youth; but, despite the duke's former and current affairs, a love affair for the duchess is completely unacceptable. Georgiana has to choose between her children and her love.
Lady Diana Spencer married the Prince of Wales just over two centuries after her equally beloved forebearer married the Duke of Devonshire, yet many aspects of their lives contain parallels. Both stories are bitter sweet, reflecting fates that most of us would have difficulty imagining. (Osanna Vaughn)