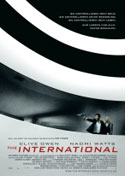 Opening 12 Feb 2009
Directed by: Tom Tykwer
Writing credits: Eric Singer
Principal actors: Clive Owen, Naomi Watts, Armin Mueller-Stahl, Ulrich Thomsen, Brian F. O'Byrne
Shot on location, The International, directed by Tom Tykwer (Run Lola Run), methodically develops Eric Singer's original screenplay with crisp visuals and sound. The opening scene, the sport of espionage, jump starts the riveting thriller to entice its audience. My hat goes off to the cinematography and editing departments for their portrayal of a believable and entertaining narrative.
U.S. special government agent Louis Salinger (Clive Owen) and Manhattan Assistant District Attorney Eleanor Whitman (Naomi Watts) are curious about the death of a revered colleague in Berlin. Evidence which proves that he was murdered opens the door to their suspicion that one of the world's most powerful financial institutions controls an intricate scheme of illegal activity which aims to undermine world governments. Perplexed by the reasons for an uncanny union, Salinger and Whitman enter a dangerous plan to bring justice to a highly corrupt global organization. In the process, they hope to ascertain that their colleague did not die in vain while protecting the people of his country. (Karen Pecota)


Second Opinion

This British-German co-production by German director Tom Tykwer (Perfume, Run Lola Run) was chosen to open the 2009 Berlinale Film Festival. The production was filmed at Studio Babelsberg and on location in Berlin, New York, Istanbul and Milan. The star-studded international cast includes Clive Owen (Inside Man) and Naomi Watts (21 Grams) in the leading roles, Armin Mueller-Stahl (The Buddenbrooks), Brian F. O'Bryrne (Million Dollar Baby), Ulrich Thomsen (Festen) and Jack McGee (Crash).
This action thriller traces criminal business transactions of a powerful world bank, financing wars and stirring up unrest for financial gains. A thriller with this "hot" subject is particularly chilling as we slide into a banking crisis of unknown dimensions. The festival chief, Dieter Kosslick said, "When we decided to open the festival with Tom Tykwer's financial thriller, we did not know that his fiction would soon be overtaken by reality."
Interpol agent Louis Salinger (Owen) teams up with Manhattan district attorney Eleanor Whitman (Watts) after witnessing the mysterious and sudden collapse of his colleague, suspecting a cold-blooded murder. They get caught up in far-reaching criminal doings of high-finance, leading them to the (fictional) IBBC bank. They soon find out that this sleek organisation functions as an assassination agency. The cool assassin (O'Bryrne) is spine-chilling. People get shot, others get tortured. Illegal weapons deals involve Third-World countries, and Salinger is obsessively driven to bring these highly sophisticated villains to fall.
The hectic action hop-scotches across continents with stunning views of, e.g., Milan, great modern architecture and glimpses of historical Turkey, thanks to Frank Griebe's excellent cinematography. The action dramatically accelerates with the breathtaking – if somewhat illogical – shoot-out at the Guggenheim museum. The chase ends in Istanbul with an exhilarating view over the ancient rooftops of Istanbul. Salinger has just survived, but who is the winner? (Birgit Schrumpf)