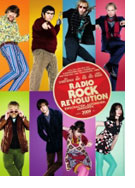 Radio Rock Revolution (The Boat That Rocked)
U.K./Germany 2009
Opening 16 Apr 2009
Directed by: Richard Curtis
Writing credits: Richard Curtis
Principal actors: Emma Thompson, Philip Seymour Hoffman, Gemma Arterton, Kenneth Branagh, Bill Nighy
Celebrated script-writer Richard Curtis (Four Weddings and a Funeral, Bridget Jones's Diary) writes and directs his second movie (after Love Actually), a delightful rock n' roll caper starring Philip Seymour Hoffman, Bill Nighy, Rhys Ifans and many more.
In the mid sixties, the BBC played just a couple of hours rock music per week: for half the British population, the saviors of the day were the pirate radio stations, broadcasting the great music of the age, 24 hours non-stop. Located aboard an old fishing boat in the middle of the North Sea, Rock Radio is one such station, home to a motley crew of deejays headed by die-hard music lover, The Count (Hoffmann) and the extravagant Gavin (Ifans), and all captained by Quentin (Nighy), the owner of the station.
Life at Rock Radio is colourful, hilarious and wild, held together by a passion for the music and full dedication to the fans. But while the voices of the all-male cast of deejays have the hearts thousands of young women throbbing, the British government has no time for such rubbish: a special commission headed by Minister Dormandy (Kenneth Branagh) is given the task of closing down the morally questionable, obnoxious stations. After many a dead-end, Dormandy finds a water tight excuse to declare Rock Radio and its siblings illegal and everyone dealing with them criminals: the Marine Broadcasting Offences Act is created...
Any fan of sixties music who enjoys wacky British comedy is bound to enjoy The Boat That Rocked. With its excellent cast, funny dialogue and rocking music it would be hard to go wrong, and the people versus the government (extremely caricatured in Branagh's performance) theme is a sure heart winner. (Osanna Vaughn)