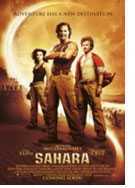 Sahara - Abenteuer in der Wüste (Sahara)
U.S.A./Spain 2005
Opening 2 Jun 2005
Directed by: Breck Eisner
Writing credits: Clive Cussler, Thomas Dean Donnelly, Joshua Oppenheimer, John C. Richards, James V. Hart
Principal actors: Matthew McConaughey, Steve Zahn, Penélope Cruz, Lambert Wilson, Glynn Turman
Universum Film presents an adventurous caper across western Africa, starring Matthew McConaughey (Amistad, Wedding Planner), Steve Zahn (Out of Sight, National Security) and Penélope Cruz (All About My Mother, Blow). It is directed by Breck Eisner.
Dirk Pitt (McConaughey) is a swash-buckling, kind-a underwater treasure hunter employed by NUMA (National Underwater and Marine Agency). For years now he has been obsessed by the legend of an ironclad sailing vessel known as the "Ship of death", that somehow made it from civil wartime America to Africa, after which it disappeared. The discovery of a rare coin associated with the vessel takes Dirk and his long-time buddy and fellow treasure hunter Al (Zahn) to Mali. There they cross paths with Dr. Eva Rojas (Cruz) from the WHO, who is trying to pinpoint the location of what she fears could be the beginning of a fatal epidemic. It is soon apparent that both quests are closely intertwined. It is also clear that corrupt governments, warlords and businessmen are very keen to stop them achieving their goals, though why is a mystery yet to be unravelled. Whether in a luxury speedboat on the Niger river, in jeeps, on camels or handcuffed to the back of a pick-up truck, the journey is fraught with adventure, tragedy and plenty of humour...
Though fun and entertaining, Sahara will probably not make it into the annals of great movie history. Even so, McConaughey and Zahn have a convincing and well-balanced rapport: Dirk the guy who believes anything is possible; Al the guy who doesn't necessarily agree but is largely responsible for making the impossible possible. Though a certain attraction between Dirk and Eva is evident, it's not overdone and is only acted on at the very end. Filmed largely in Morocco, the film has some stunning desert scenes and interesting settings.
Sahara seems to have been set-up for a sequel – only time will tell. (Osanna Vaughn)