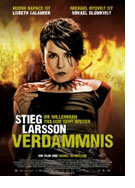 Verdammnis (The Girl Who Played with Fire, Flickan som lekte med elden)
Sweden/Denmark/Germany 2009
Opening 4 Feb 2010
Directed by: Daniel Alfredson
Writing credits: Jonas Frykberg, Stieg Larsson
Principal actors: Noomi Rapace, Michael Nyqvist, Lena Endre, Jörgen Berthage, Tanja Lorentzon
Following the filming of Stieg Larsson's first book of his gripping trilogy, The Girl with the Dragon Tattoo or Verblendung, Daniel Alfredson brings the second one to life with the same actors: Michael Nyqvist as Michael Blomkvist and the extraordinary Noomi Rapace as Lisbeth Salander. Rapace was nominated as Best Actress for the European Film Prize after her furious and mesmerizing performance in Verblendung. (The trilogy is being shown here only in German.)
The second film is, in some ways, even more suspenseful than the first. A young freelance reporter, Dag Svensson, approaches Millenium, a controversial magazine published by Michael Blomkvist, with a story on the sex trafficking of young women from the Baltic area and Russia. Svensson, using research based on an unpublished report made by his criminologist girlfriend, is naming those involved: politicians, judges, police, and a social worker, all assigned power of attorney by the state for children and people unable to look after themselves. Among these is Lisbeth's social worker, Nils Bjurmund, a man who raped and sodomized her while she was his responsibility. Lisbeth, a security researcher and gifted hacker, discovers this by tracking the information Svensson is funneling to Blomkvist, and she swears vengeance. A short time later, both the young journalist and his girlfriend are found murdered, as is Bjurman. Lisbeth's fingerprints are on the gun.
Confined to a state psychiatric unit at the age of thirteen, where she was bound to a bed in solitary for almost a year, Lisbeth is unwilling to talk to anyone about what happened to her there, or what Bjurman did to her when she was placed under his care at eighteen. Her utter silence is frustrating, chilling. To the media and the police (and to the audience), she seems paranoid, convinced anyone in authority is her enemy and that even well-meaning civilians will return her to the clinic. It turns out that she is not wrong. No one except Blomkvist, who worked with her on an earlier story and knows some of her history, believes in her innocence. But the powers that be are not the only people who want so see Lisbeth behind bars or dead, preferably the latter. She carries a number of secrets which would be extremely harmful to many if revealed.
The suspense builds rapidly, and you are unable to imagine, from one frame to the next, what's coming. Your heart is with this odd young woman, but your head tells you Lisbeth hasn't a chance in hell. And hell is where she finds herself.
The third and last film in this amazing series, Vergebung, will open early this summer. If you see Verdammnis, you will be on tenterhooks waiting for it, because this film ends like the Perils of Pauline: the heroine tied to the tracks and the express train bearing down on her at full throttle. Come back next film to see how how Lisbeth's story ends. The trilogy is worth it. (Adele Riepe)