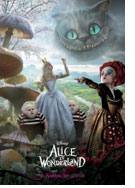 Alice im Wunderland (Alice in Wonderland)
U.S.A. 2010
Opening 4 Mar 2010
Directed by: Tim Burton
Writing credits: Linda Woolverton, Lewis Carroll
Principal actors: Johnny Depp, Mia Wasikowska, Helena Bonham Carter, Anne Hathaway, Crispin Glover
Tim Burton adds his particular flavour in a new 3D version of Alice in Wonderland starring Mia Wasikowska, Johnny Depp, Helen Bonham Carter and Anne Hathaway. The screenplay is by Linda Woolverton.
Alice (Wasikowska) is now nineteen and believes that her childhood adventures were nothing more than dreams. Even so, she is not a conventional young Victorian lady, and she still has a habit of seeing strange things – like white rabbits in waist-coats. At a garden party held to celebrate her engagement it happens again, and this time she follows the strange creature, falling down the rabbit hole as he intends.
Alice finds a Wonderland very different to the one in her dreams. The Red Queen (Bonham Carter) had stolen the crown from her sister, the White Queen (Hathaway), governing the land with an iron fist and letting most of it run to ruin. Still, the young girl does meet familiar friends such as the Mad Hatter (Depp), the Cheshire Cat (voice Stephen Fry) and the Blue Caterpillar (voice Alan Rickman), but she refuses to believe Wonderland is real and, much less, that she's responsible for saving it and restoring the crown to its rightful owner by slaying the Jabberwocky (voice Christopher Lee). However, when the Mad Hatter distracts and gets captured by the red knights so that Alice can escape, she doesn't abandon him, but sets off to the Red Queen's castle to free him...
Tim Burton's Alice in Wonderland mixes real people and computer animation. Unfortunately, he does not appear to have used motion capture for the animation, resulting in the animated parts being visibly less fluid than the human (particularly when a real head is stuck on an animated body). The movie was filmed in 2D and then converted to 3D, and my impression is that watching it in 3D is not essential. The story is pretty straightforward and lacking in any real humour. The Mad Hatter and his friends have the tragi/comedy air so typical of Burton, and the potential humour offered by Tweedledum and Tweedledee does not surface. Johnny Depp is good as always, but one wonders at the wisdom of using the same actor again and again. It all becomes rather predictable – specially when Helen Bonham Carter, not unsurprisingly, plays the role of the irascible Red Queen. (Osanna Vaughn)