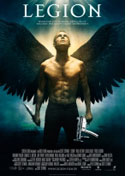 Opening 18 Mar 2010
Directed by: Scott Stewart
Writing credits: Peter Schink, Scott Stewart
Principal actors: Paul Bettany, Lucas Black, Tyrese Gibson, Adrianne Palicki, Charles S. Dutton
Directed by Scott Stewart (Priest) and starring Paul Bettany (Master & Commander, Dogville), Dennis Quaid (G.I. Joe: Rise of Cobra, The Day After Tomorrow), Lucas Black (The X Files), Adrianne Palicki (Women in Trouble) and Charles S. Dutton (Cookie's Fortune, Secret Window), Legion is described as a supernatural action thriller. The screenplay was written by Peter Schink and Scott Stewart.
God has had enough. Deciding to put an end to the experiment known as Humanity, he sends his angelic armies to destroy the world – led by arch-angels Michael (Bettany) and Gabriel (Kevin Durand); but Michael rebels, opting to side with humanity in whom he has not yet lost all faith. Small pockets of people here and there are fighting to resist annihilation, and one is a diner in the middle of the Mojave desert run by Bob Hanson (Quaid) and his partner Percy (Dutton). When the television, radio and phones suddenly fail, and a frail old woman suddenly turns into a psychopath, the small group of people at the diner begin to suspect something seriously bad is happening. Luckily for them, this is where Michael comes to set up the last stand, and to protect the unborn baby carried by the eight months pregnant Charlie (Palicki), whom the arch-angel claims is the last hope for humanity... 
Legion might have been a touch more "credible" if it had been about an alien invasion or zombie takeover rather than the wrath of God and an angelic army. With the exceptions of Michael and Gabriel (whose main distinction from the Terminator is that they have wings), the attacking angels are a mixture of zombie and sharp-toothed goblin. Basically, it's a horror movie without much originality; and the idea that Charlie, a young woman with no particularly redeeming features except her prettiness, should be the mother of the hope of humanity just stretches it too far.
In spite of the movies blatant weaknesses, the acting is quite adequate for what it is. (Osanna Vaughn)