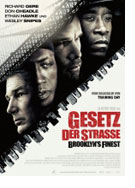 Gesetz der Strasse - Brooklyn's Finest (Brooklyn's Finest)
U.S.A. 2009
Opening 1 Apr 2010
Directed by: Antoine Fuqua
Writing credits: Michael C. Martin
Principal actors: Richard Gere, Don Cheadle, Ethan Hawke, Wesley Snipes, Vincent D'Onofrio
Three cops, three dramatic short stories, masterfully told simultaneously, and each concluding at the same violent crime scene at a Brooklyn housing project in East New York. We meet each man at a time when he desperately needs "his life back." Thanks to terrific performances by all leads, we are made to "feel" their perspective, their anguish and weariness, and the contempt they have for themselves.
Tango (Don Cheadle) is pressured by his superiors (Ellen Barkin, Will Patton) into yet another undercover operation that involves nailing his friend Caz (Wesley Snipes), a high profile drug dealer. They leave him no choice. In exchange he is promised a promotion to a desk job that he badly wants. The tightrope act between loyalties pushes him to the edge.
Sal (Ethan Hawke) works in narcotics. He is desperately trying to hold his life together but sinks deeper and deeper. On his police officer salary he can't provide for his family the way he feels he should; in his words, cops are "worth more dead than alive" with death benefits of about $100,000 in crass contrast to their salaries. He doesn't know where to look for help and is way beyond asking for forgiveness for the violent crimes he is committing.
Eddie (Richard Gere), disenchanted and lonely, is counting down his last seven days to retirement. For 20 years his main concern seems to have been getting through the day while staying out of trouble. He carries an unloaded weapon. In his own words, "What lies between now and retirement is the job," That's an awfully long time to just let pass. In this last week on the job, he is ordered to train a new recruit; it serves as a kind of wake-up call for him to salvage whatever is left of his career and himself. On his first day of retirement, after he has already turned in his badge, he witnesses a crime and instead of turning away, pursues the perpetrator to the housing project, where the film concludes. I found Eddie's nuanced story the most interesting and enjoyed watching Gere's subtle approach to the role. Bit by bit the picture emerges and culminates in an unexpected ending.
The other two stories are dramatic, but more predictable. I found it a little difficult to follow Tango's story, mainly because of the slang he and the "boyz in the hood" used, and maybe because I am not that familiar with the subtleties of drug dealing. Michael Martin, a former subway flagger for the M.T.A., wrote this (his first) script to enter a screenwriting competition, with a first prize of $10K, just the money he needed to replace the car he lost in an accident. He didn't win, but members of the jury found the script interesting enough to send it around to studios; Warner Bros. picked it up immediately. Martin did not write from an "ivory tower," and it shows. He grew up in the Brownsville's Van Dyke housing projects, were the film is set and filmed. Directed by Antoine Fuqua. (Carola A)