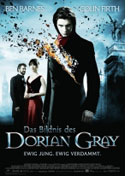 Das Bildnis des Dorian Gray (Dorian Gray)
U.K. 2009
Opening 15 Apr 2010
Directed by: Oliver Parker
Writing credits: Toby Finlay, Oscar Wilde
Principal actors: Rebecca Hall, Colin Firth, Ben Barnes, Rachel Hurd-Wood, Emilia Fox
Ben Barnes (The Chronicles of Narnia: Prince Caspian) and Colin Firth (The Importance of Being Ernest, Love Actually) star in a new adaptation of Oscar Wilde's famous story directed by Oliver Parker (Othello, A Perfect Husband) with a screenplay by Toby Finlay.
The 20-year-old orphan, Dorian Gray (Barnes), inherits his grandfather's estate and moves to London. Unsophisticated, innocent and exceptionally good looking, he catches the eye of a prominent artist of the day, Basil Hallward (Ben Chaplin), who insists on painting his portrait. Lord Henry Wotton (Firth) is also impressed by Dorian's looks, encouraging the young man to use and exploit them to fully explore the world of sensory satisfactions.
When the portrait is exhibited for the first time, Dorian delights in the fact that his good looks become the talk of the town and he is the centre of attention. In a casual banter with Lord Henry, the young man even says he would trade his soul for eternal beauty, never suspecting that the pact is sealed the moment he spoke the words. From that moment onwards, Dorian slips further and further into a hedonistic world of alcohol, drugs and promiscuity, egged on all the way by Lord Henry. At the same time, he notices something strange happening – the portrait is beginning to reflect the weight of the life he is leading, while his own features and body remain perfect and unblemished. Fearful, yet fascinated and obsessed at the same time, Dorian continues the life of debauchery, until Basil's discovery of the truth pushes the young man to the ultimate act of violence.
I suspect the reason this movie did not draw me in lay in the relationships between the various characters – they were simply not believable and left me with the feeling that none of the actors felt completely comfortable in their various interactions. In addition, though he has potential, I think Ben Barnes was too inexperienced to play such a complex character. He makes all the moves, but his gentle eyes belie the perverse and cynical transformation taking place. (Osanna Vaughn)