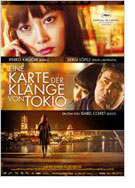 Eine Karte der Klänge von Tokio (Map of the Sounds of Tokyo)
Spain 2009
Opening 5 Aug 2010
Directed by: Isabel Coixet
Writing credits: Isabel Coixet
Principal actors: Rinko Kikuchi, Sergi López, Min Tanaka, Manabu Oshio, Takeo Nakahara
With the first succulent shot, this film's cinematic splendor is reminiscent of such Japanese directors as Akira Kurosawa (Ran), Kon Ichikawa (The Makioka Sisters) and Yojiro Takita (Departures). Hence it is a surprise the director of Map of the Sounds of Tokyo is Spanish; Isabel Coixet also wrote this probing study of human loneliness, loss and disengagement.
Tokyo magnate Mr. Nagara (Takeo Nakahara) is shattered when his only daughter Midori commits suicide. He blames the Spanish boyfriend he never liked, successful wine shop owner David (Sergi López). Nagara's assistant Ishida (Hideo Sakaki) arranges a contract on David's life with Ryu (Rinko Kikuchi), a mysterious loner who works the night shift at Tsukiji fish market and accepts the occasional job as a hit-woman. Conversely, David is not to be the usual target. Captured on tape by an obsessive sound engineer, Narrador (Min Tanaka) relates this tragic story, a haunting web of delicate intrigue, and admits his love for Ryu.
Coixet unhurriedly lets the story unwind with meticulous utilization of the audiovisual in concert with the characters movements and interaction, which the actors depict intelligently and self-assuredly. She skillfully demonstrates the subtle shift from a liaison of carnal lust, to one of some sort of feeling in the explicit sex scenes between the two protagonists at a love-hotel. "Perhaps it was too late before it had begun," and so Narrador encapsulates his commentary.
The rhythm between Coixet, Cinematographer Jean-Claude Larrieu and Editor Irene Blecua is a waltz of near perfection. The Sound team captures impeccable audio nuances: recordist Aitor Berenguer, designer Fabiola Ordoyo, and re-recording mixer Marc Orts. The minimal dialogue is in Japanese & English with German subtitles that are quite easy to follow. This love story is of a proportion that is sure to linger in your memory. (Marinell Haegelin)