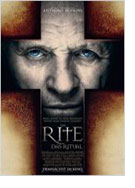 The Rite - Das Ritual (The Rite)
U.S.A. 2011
Opening 17 Mar 2011
Directed by: Mikael Håfström
Writing credits: Michael Petroni, Matt Baglio
Principal actors: Anthony Hopkins, Colin O'Donoghue, Alice Braga, Ciaran Hinds, Toby Jones
Directed by Mikael Håftröm, The Rite stars Anthony Hopkins and Colin O'Donoghue. The story, that claims to be based on fact, was written by Michael Petroni and Matt Baglio. It traces the true account of the Rev. Gary Thomas, who underwent training as an exorcist in Rome because there was no training available in the United States at the time.
Michael Kovak (O'Donoghue) has just spent four years in seminary but realizes that he does not have the faith necessary to become ordained. His mentor, Father Matthew (Toby Jones), suggests he go to Rome to attend a two month seminar on exorcism before making his final decision. Even when Kovak begins to visit with a practicing exorcist, Father Lucas Trevant (Hopkins), and observe some of the cases of possession he is treating, the young man finds it impossible to overcome his doubts. It is only when Trevant himself becomes possessed that Kovak can finally accept that the devil and his demons exist. Therein lies salvation. By accepting the existence of the devil, Kovak is able to unequivocally acknowledge the existence of God, which allows him to exorcise the older priest and discover his own faith.
While dealing with demons and exorcisms, The Rite is not a typical horror movie – rather it aims to convey a disturbing story with facts that are real and believable for many. While there is writhing, swearing and twisted bodies, the movie manages to stay away from the absolutely ludicrous. O'Donoghue and Hopkins both put on very convincing performances. (Osanna Vaughn)


Second Opinion

Mikael Håfström's The Rite bears a strong resemblance to William Friedkin's 1973 The Exorcist. In that film Max von Sydow, an older priest in Washington, D.C., takes Jason Miller, a young priest doubting his faith, to help exorcise Linda Blair, an adolescent possessed by the devil. This latter version casts Anthony Hopkins (Father Lucas Trevant) as the seasoned devil-fighter, Colin O'Donoghue (Michael Kovak) is the young doubting seminarian, and Marta Gastini (Rosaria) has the demon within. The films' basic premise is the same: god vs. devil, good vs. evil.
Håfström's possessed do not puke pea soup or have heads that twist 360 degrees; instead his treatment is more realistic using bodily gyrations and computer generated effects. However they are still just that — special effects that might divert, but do not convince. Father Trevant's poke-fun approach at cats, exorcism, the church, et al and that the setting is Rome and the Vatican's exorcism school, add variance. I saw a German-dubbed version; the Deutsche Fassung is well done, but Anthony Hopkins has perfected manic, monstrous, demonic articulation and that cannot be copied.
Perhaps after all these years and so many exorcist-theme movies, I have become somewhat jaded; although The Rite is well crafted, I was hearing echoes from films past. There is no comparison between the two afore mentioned films: The Rite is fairly entertaining, nevertheless my advice is, wait for it to come out on DVD. (Marinell Haegelin)