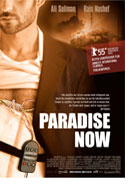 Opening 29 Sep 2005
Directed by: Hany Abu-Assad
Writing credits: Hany Abu-Assad, Bero Beyer, Pierre Hodgson
Principal actors: Kais Nashef, Ali Suliman, Lubna Azabal, Amer Hlehel, Hiam Abbass
The director, Hany Abu-Assad, knows the location of his film well. He was born in Nazareth and has made a number of documentary and feature films about the desperate situation in the Middle East. His most successful film, Rana's Wedding (2002), dealt with the virtually insurmountable difficulties facing a young Palestinian pair preparing for their wedding. But this time, Abu-Assad has taken on an even more difficult subject: suicide bombers.
The film follows two young Palestinians, Said (Kais Nashef) and Khaled (Ali Suliman), who have volunteered to kill themselves and take as many Israelis as they can with them. As we meet the two young men, they haven't yet learned that their last day on earth will be the next day. As they are told they remain cool and accepting. And we watch them spending their last night with their families, where, of course, they are not allowed to give any hint of the plans for the morrow (Said's mother is played by the "grand dame" of Palestine films, Hiam Abbass (The Syrian Bride)).
The morning comes and the young men are bathed and shaved and dressed in black suits with white shirts covering the vest of bombs strapped to their bodies. They make a video declaring their love of Allah and belief in Paradise and the Cause. And then they go off to meet the Israeli collaborator who is expected to drive them to the destination of the bombing. It doesn't work out that way, and in the end, the two young men have an extra day to consider their decision.
There has been a good deal of debate about this film. Many have felt that the suicide killers are portrayed too sympathetically. But it is also clear that they are being used by their handlers for their own political ends and that the situation in both Tel Aviv and Nabulus is impossible. Incidentally, the filming in Nabulus had to be halted and moved elsewhere because the film crew were in so much danger from the Israeli rockets and gunfire. The film was awarded the Peace Prize by Amnesty International and won the Audience Choice Award at the 2005 Berlinale, as well as the AGICOA (International non-governmental organization) Blue Angel for the best European Film.
For more information, click here to read an article about the film by Mary Nyiri and Shelly Schoeneshoefer in the KinoCritics Report on the Internationale Filmfestspiele Berlin 2005. (Adele Riepe)