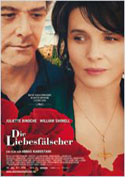 Die Liebesfälscher (Certified Copy, Copie Conforme)
France/Italy/Belgium 2010
Opening 13 Oct 2011
Directed by: Abbas Kiarostami
Writing credits: Abbas Kiarostami
Principal actors: Juliette Binoche, William Shimell, Jean-Claude Carrière, Agathe Natanson, Gianna Giachetti
Iranian director Abbas Kiarostami (Taste Of Cherry, The Wind Will Carry Us, Through the Olive Trees) lives up to his reputation with this philosophically probing romantic drama. Through exceptional acting from Juliette Binoche as Elle, who was awarded the Best Actress prize in Cannes, and opera star William Shimell in his first film role as James Miller, this is Kiarostami's first feature not filmed in Iran.
British author Miller is touring Tuscany promoting his newest book about fakery and authenticity in art when Elle passes him a note at a lecture, and the following day they drive to the Italian village of Lucignano. En route their playful banter takes a tempestuous turn that continues throughout the celluloid day, and hour of screen time. Their conversation whirls around questions of self-honesty, openness, and individual choice.
When asked about his scripts, Kiarostami admits, "I have a general outline and a character in my mind… When I find the character, I try to spend time with them and get to know them very well. …It's a long process, it may take six months. I only make notes. I don't write dialogs in full. …I don't have rehearsals with them… rather than pulling them towards myself, I travel closer to them; it's very much closer to the real person than anything I try to create. So I give them something but I also take from them."
In Copie Conforme the exchange between Miller and Elle incorporates life-issues many of which the audience can relate to, and yet does not give any answers. Not unlike the film's ending, it is up to each individual to interpret and make the most out of the information available. (Marinell Haegelin)


Second Opinion

"It is my intention to try and show that 'the copy' itself has worth….and (that) this is not only valid in art." James Miller (Shimell) has come to Italy to introduce his new book Certified Copy. This is his opening thought. A seat in the front row has been reserved for an attractive art dealer (Binoche); she has to leave early but leaves her number for the author to call. The next day she takes him on an excursion, and they engage in an exchange about "originality in art". How perfect to ponder the subject of his book in a 'living museum' like Tuscany! The conversation and the topic of this suspenseful film soon move from art to: reality and fiction, illusion, deception and pretence in life, and finally play out entirely in the viewer's mind.
She – who remains nameless – takes James to San Gimignano, a charming town and popular wedding destination. They stop for coffee. The proprietor of the bar assumes they are married – they play along; and then keep pretending, … or are they?? Their dialog gets increasingly personal and tense and a skirmish threatens to develop into a cruel "Who's afraid of Virginia Woolf-ian" battle when they settle in a restaurant for lunch. The film is easily imaginable on stage: so focused on the two well-developed yet mysterious characters, and intelligent the dialog (script and direction by Kiarostami). Juliette Binoche, incited by her stoic counterpart, moves effortless between self-assured, vulnerable, desperate and comical. (Carola A)