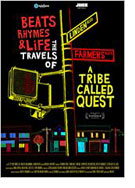 Beats, Rhymes & Life: The Travels of a Tribe called Quest
U.S.A. 2011
Opening 7 Jun 2012
Directed by: Michael Rapaport
Writing credits:

Director Micheal Rapaport wanted to make a documentary about Hip Hop since it is an important American music movement like jazz and the blues , and there isn't really a movie out there showing how it came to be. He chooses a rap/hip hop group called Quest which consists of four members, Q-tip, Phife Dawg, Ali Shaheed Muhammad and Jarobi White. If you are old enough, we all remember the influences of the '80s where people were walking around with their boom boxes and the DJs with their collections of records. It was the time when MTV came about and had these unplugged moments, which is exactly the feeling he wanted to integrate in this film. He said the hardest part about making a documentary is to portray all four members in a clear and concise way since they have had such a long history where a lot of creative makings happened but also hard times.
The film does a really good job tracing the history from the meeting of the group, to the albums and movements that they started. Included was also the break up and, due to the cry of the fans, reunification the group members despite their differences. Perhaps some of you have theses albums? First album: Peoples Instinctive Travels and the paths of Rhythm, Low End Theory and Midnight Marauders. My son who understands English said it wasn't easy to understand the documentary since the group seem to speak in rhymes or a rap even in the everyday life. I didn't have this problem, but there were German subtitles which help out. It was also interesting that they came out of the same neighborhood as Ella Fitzgerald and Lena Horn among others. They were the first rap group to use records as a base for their music, and they were the first to do this repetition thing with records which is so common today in much of the music today. (Shelly Schoeneshoefer)


Second Opinion

Heard of hip-hop? Know what it references? This documentary will take you on a musical adventure and education. Comparing the influential A Tribe Called Quest (ATCQ) to the Beatles, Led Zeppelin and the Rolling Stones, actor-turned-director and native New Yorker Michael Rapaport tracks the group members - Q-Tip, Malik Taylor a.k.a. Phife Dawg, Ali Shaheed Muhammad and Jarobi White, their distinct contribution to hip-hop music and their inspiration to later generations.
Phife says of Q-Tip, "… we've known each other longer than anyone else in this world outside our respective families… " Listening to radio DJs kids heard music - rhymes metrically delivered over a beat, either original or sampled instrumental recordings, and mixed with original sounds - originating during the late 1970s in New York City's impoverished South Bronx. "If you could rhyme, that was a big deal". Q-Tip began performing solo, occasionally with Ali and often brought Phife in when making demos. Then Jarobi joined the duo, and Phife followed. It is worth noting their interests beyond performing include: music (Q-Tip's hobby is collecting vinyl; later admirers talk about how ATCQ were "using records in (their) parents collection that others didn't bother to look at"), film, sports, TV, clothes and a desire to try new directions; their close friendship imbued their songs with harmony and love.
The name, ATCQ evolved in 1988, their 1990 debut album People's Instinctive Travels and the Paths of Rhythm received mixed reviews, and their 1991 second album The Low End Theory, with Q-Tip and Phife performing vocals together, is considered a landmark. Fans and critics alike praised Midnight Marauders, released in 1993, their #1 fourth album Beats, Rhymes and Life in 1996, and The Love Movement in 1998, the year they broke-up. So what happened? Going behind the scenes we witness developing discord: Early on Jarobi left the group because of personal reasons, and the too many restrictions; Phife's heath issues - diabetes and sugar addiction, both pulled them apart, brought them together, and his bitterness on screen is tangible; Q-Tip, a perfectionist and control-freak, laments "(they are) not hearing what we're singing"; Ali is rational and accepting. Phife highlights that they were only 18-19 when they got started, and 28 when they broke up; Q-Tip reflects, "in order to move forward (you) have to remember where you've been." They reunite to tour rather regularly: Q-Tip says, "…turned out good, man… they still want us, baby." And one album remains on ATCQ's original 1989 contract with Jive Records.
Pulling this film together was a gargantuan task: four group members with a personal story and their joint account from 1985 to the preset, the hip-hop movement, the many artists, producers, extensions i.e. the Native Tongue Family, old photos and archival footage, etc. The graphic animations are engaging and whimsical throughout, as well as the many DJ's, MC's, rappers, et al introducing themselves as end credits roll. Sorely missing are title cards to help us keep the ATCQ members and the Timeline straight. The film whets one's appetite to know more about hip-hop music, and the sub-culture hip-hop - its impact and its legacy. "… for nothing else but to make music – what a great thing to be remembered for" sums up Ali nicely. (Marinell Haegelin)