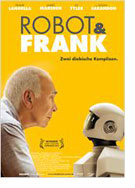 Opening 25 Oct 2012
Directed by: Jake Schreier
Writing credits: Christopher D. Ford
Principal actors: Frank Langella, James Marsden, Liv Tyler, Susan Sarandon, Peter Sarsgaard
The time is "in the not too distant future" and robots are now as clever as people. The place is New York state where Frank (Frank Langella) is struggling to look after himself in his old age. He spends his time visiting the library and flirting with Jennifer (Susan Sarandon) and getting revenge on the gift boutique which has replaced his much-loved local coffee shop by stealing soaps and other trinkets from it.
Frank's son Hunter (James Marsden) and daughter Madison (Liv Tyler) worry about their dad's ability to look after himself. One day Hunter, who makes a five-hour round trip each week to check on Frank, brings along a friend to help. This friend is in fact a robot (played by Peter Sarsgaard) which has been programmed to behave like a butler and attend to Frank's every need. Some of us would love to have such a friend, but Frank objects strongly at first and asks Hunter to render the robot useless.
Because the robot is useful around the house and is able to talk to the lonely man, the two become friends and soon the robot is accompanying Frank on his regular trips to the library. Changes are afoot there, too. Consultant Jake (Jeremy Sisto) is modernising the library and introducing a robot to help Jennifer. Frank takes an instant loathing to Jake and is none too happy to learn that Jennifer will be relegated to a behind-the-scenes office when the robot is installed.
Frank may be a likeable old chap on the surface, but he has a dark secret and a hidden past. He reverts to type and plots to take revenge on Jake for meddling with Jennifer and the library. Soon the police are involved and a detective (Jeremy Strong) is staking out Frank's home.
There is often pathos in comedy, and this is true of this movie, which is directed by Jake Schrier. He treats a serious subject in a light-hearted but thoughtful manner. The problem of looking after aging parents is a difficult one to face but – who knows? – perhaps helpful, talking robots taking care of them will be the answer in the not-too-distant future. (Jenny Mather)


Second Opinion

Frank (Frank Langella) is bored. A cat burglar extraordinaire, with age his adversary, sloppiness his companion, these days his biggest thrill is walking down the winding county road into town, to the library, and flirting with Jennifer (Susan Sarandon). His son is tired of driving ten-hours round-trip to check on him every time Madison (Liv Tyler), gallivanting around the globe in the name of work, phones Hunter (James Marsden) after phoning their dad. So Hunter brings the perfect solution: a robot, to take care of and watch over Frank. Who understandably abreacts. Until Robot confounds Frank by aiding, abets with a healthy-lifestyle tradeoff, and befriends with a qualitative unsuspected.
An entrepreneur cum whiney scoundrel sets himself up as a mark, inadvertently, at the library's benefit event by making belittling remarks to the old, addled, honest thief. Frank planned; they cased and had a practice run – now Frank zeros in on Jake (Jeremy Strong). When Madison pops up to relieve his "nuisance", Frank's imagination and concentration work over-time trying to be rid of her. The local Sheriff (Jeremy Sisto) is cleverer though, not so easy to be rid of. Even Jennifer finds it hard to believe Frank has taken to Robot. Conversely, when push comes to shove, Robot has acquired loyalty unsurpassed, and we root for their alliance.
Perspicaciously directed by Jake Schreier, via Christopher D. Ford's screenplay, Matthew J. Lloyd's cinematography, and Jacob Craycroft's editing, by the film's end we also want to hug and hold Robot and Frank. Robot (Rachael Ma: humanoid machine; Peter Sarsgaard: superbly matched voice) tickles our fancy and conscience with the abstract allocation it subscribes to ethical issues. But Frank – his frailty, his nemesis the onset of dementia – the versatile Langella (Dracula, Frost/Nixon) unflinchingly, quietly, pathetically integrates, unforgettably. Listen to the whisper in his performance: societies should do more to alleviate boredom for seniors, who have decades of insight and knowledge to share, who deserve more, and better. (Marinell Haegelin)