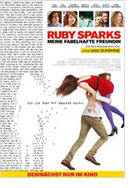 Ruby Sparks - Meine fabelhafte Freundin (Ruby Sparks)
U.S.A. 2012
Opening 29 Nov 2012
Directed by: Jonathan Dayton
Writing credits: Zoe Kazan
Principal actors: Paul Dano, Zoe Kazan, Chris Messina, Annette Bening, Antonio Banderas
Smartly tailored, wonderfully cast and expertly acted, it is not often that a romantic comedy is so imaginative, with a cast that charismatically interacts and have great affinity with their lines, and delivers so much good-humor fun. With his bad haircut and glasses, introverted and insecure Calvin's (Paul Dano) only companion is Scotty, fleas and all. Writing a run-away best seller at 19 came naturally, but fast-forward 10-years, add a publisher waiting for another (remarkable) book, and writer's block – Calvin has mucho problems. And only two people to talk to: his paid therapist (Elliott Gould) and his unpaid, opposite-in-every-way brother Harry (Chris Messina). Both have his best interests at heart: his writing, and his "getting a life".
Since lovely Lyla (Deborah Ann Woll) left him after five years, and following his father's death, Calvin has been in a rut. His shrink convinced him to get the dog, and cajoles by assigning a writing exercise, but Calvin balks. Overtly supportive, Harry, seemingly content with wife Susie (Toni Trucks) and infant son, repeatedly tries to goad him into a relationship … or a one-night-stand for sex-sake. Then Calvin's dream takes a shape that manifests itself into a live-in girlfriend, Ruby (Zoe Kazan). Dazed and stunned, realizing he can command her by typing lightly over the keys – to dance, speak fluent French, cook superbly – however he wants.
Calvin's bro and shrink worriedly scoff when he tells them: the filmmakers absurd spin on what is predictable – Calvin under his desk phoning his shrink, convincing Harry that Ruby is real – make for side-splitting scenes. Promising himself not to manipulate Ruby, the sparkle and verve in Calvin's mundane life, proves hopeless. Genial Ruby is adaptable – a family weekend with his beaming, hedonistic mom (Annette Bening) and her hippie artist lover (Antonio Banderas) accentuates their dissimilarities. He learns a hard truth when he accidentally encounters Lyla. Inevitably, Calvin recants. He controls, confines, befuddles, and offends Ruby, until finally, painfully, Calvin forces his concentration elsewhere.
Jonathan Dayton and Valerie Faris direct Zoe Kazan's ingenious screenplay that she, amazingly, came up with a plausible ending for. Nick Urata's music is not only original, but matches and augments the differing moods throughout. Because, comedic values aside, the theme – absolute control over another being, and leaving aside that that person is born of inventive desire, is provocative. Ruby Sparks defies us not to laugh, just as the unlikely romance capitalizes on the premise that confining someone is the antithesis to true love. (Marinell Haegelin)


Second Opinion

BLACK.
Music. Fade up on a dreamy image of a woman, backlit by the sun. She stands in a silk dress, the curves of her figure clearly visible underneath.
WOMAN
There you are.
She walks toward camera with a strange uneven gait.
WOMAN (cont'd)
I've been looking for you.
She stops.
WOMAN (cont'd)
Have you seen my other shoe?
We can see she is wearing one platform sandal.
WOMAN (cont'd)
Ahh, I'm always losing things.
She looks around for the shoe, then notices something.
WOMAN (cont'd)
(to camera What?)
She smiles and moves in closer.
WOMAN (cont'd)
Why are you looking at me like that?
BLARING ALARM SOUND.
CUT TO: INT. CALVIN'S BEDROOM, EARLY MORNING.*
So begins the opening scene, the dream sequence in Ruby Sparks where the audience and Calvin (Paul Dano) meet Ruby (Zoe Kazan) for the first time. We are curious and somewhat enchanted by this kooky red-head with the impish heart-shaped face and the magnetic blue eyes. She seems both vulnerable and confident all at once; a creature conjured up by the lonely, lanky geeky novelist Calvin. Ruby has appeared out of nowhere except in Calvin's dreams, and he brings her to life, a modern day Pygmalion on his old-fashioned typewriter.
Zoe Kazan is perfect for the part of Ruby. She should be, she wrote the script. Paul Dano is an impeccable choice for her true love Calvin. He should be, in real life they are a couple. Both are accomplished actors, she won Best Actress at the Tribeca Film Festival for The Exploding Girl and played Meryl Streep's daughter in It's Complicated. Paul Dano gained fame as Dwayne in Little Miss Sunshine. Zoe Kazan is still in her 20s, she was born in 1983. Her name alone evokes Broadway and Hollywood royalty. Kazan was born in Los Angeles, the daughter of screenwriters Nicholas Kazan and Robin Swicord. Her paternal grandfather was the renowned film and theatre director Elia Kazan.
When she dropped by the Writers Guild, Richard Stayton interviewed her for an article called "A Gift of Independent Means."* Zoe speaks nostalgically about growing up in a screenwriters' home, in a house surrounded by discarded old scripts, the scrap paper she used for doodling and writing on. She even provided three childhood photos, in two she is reading, in the third she's a tiny tot in sunglasses pecking at a typewriter, perhaps a forerunner to Calvin's in the movie. When she was only five her mother already asked her opinions about a children's movie she was writing. She tells Stayton she was interested in telling stories before she could write. So she had stickers for her characters like a bunny or a kitty. She would tell her mom a story, stick the stickers on a page and have her mother write all the word parts. Growing up she went to a progressive school where she could basically do anything she wanted, so she spent all her time writing and at every recess reading to her friends.
Zoe got her idea for Ruby Sparks in 2009. She had spent the whole day acting in a play, and when dropped off late at night on a street corner near her home she saw a mannequin in the trash. It scared her; she thought it was a person. It jolted her into thinking about the Pygmalion and Galatea myth and the tossed-away mannequin became the inspiration for He Loves Me (the original title of Ruby Sparks). Zoe tells Stayton she kept reading excerpts to Paul and he laughed in all the right places. They decided to do the movie together and entrusted it to another couple, Jonathan Dayton and Valerie Faris who had co-directed the award winning Little Miss Sunsine, six years ago. Zoe had it guaranteed in her contract that she was the sole writer, she could not be rewritten. In the end, she admits to Stayton, it was a collaborative writing effort with her directors. Not only did the title change, so did the ending. The last six or seven pages had been totally different, more bittersweet. Jonathan and Valerie convinced her to make a romantic ending; Calvin had gone through this whole journey and he needed to be forgiven.
Stayton asked Zoe if acting in something she had written made her feel schizoid. She replied, "I feel as if the acting in this movie completed the writing process. Ruby, as a person, as a character, came to me in the same way (Calvin) says, 'She came to me wholly herself.' " And that's how I feel about Ruby and about Calvin actually. They were so clear to me the second they came to me in my head. It's not always like this, but it felt like hearing voices, like they just talked to me and I wrote it down."
This will come as no surprise to fans of the film and admirers in awe of Zoe Kazan.
*Stayton, Richard (Summer 1012). A gift of independent means, Written by,16(4),28-37 (Pat Frickey)