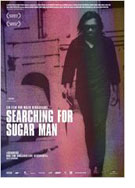 Opening 27 Dec 2012
Directed by: Malik Bendjelloul
Writing credits:

While traveling through Africa and South America in 2006, a Swedish filmmaker, Malik Bendjelloul met record shop owner, Stephen "Sugar" Segerman who told him about a 1960s musician named Rodriguez. It's his story that became the subject matter for his latest documentary Searching for Sugar Man. Malik says, "When Stephen told me about Rodriguez, I was completely speechless." He continues, "I hadn't heard a better story in my life." Five years in the making, Malik's documentary about the discovery of a charismatic Mexican-American singer/songwriter from Detroit in the late 60s who becomes more famous than the Beetles. Rodriguez's fame and longevity is one that he never knew until the making of Malik's documentary.
Malik's journey for a story started with the archival facts given to him from Segerman and "musicologist detective" Craig Bartholemew about the Detroit, Michigan music scene in 1968. There were two producers that would hang out in bars looking for raw musical talent. It was known that such a talent named Rodriguez, an unknown recording artist who had a large local following, might peak their interest. Wow! The producers were pleasantly taken with Rodriguez's sound, his style and poetic lyrics. Rodriguez collaborated with the two producers that brought about the album Cold Fact. The album had great reviews. Oddly though Rodriguez's musical tones and moans of soul coupled with anti-establishment messages went down in history as a "commercial disaster". His career ended and he dropped out of sight. Rodriguez's disappearance was debated for years; the most dreadful story told that due to his depression of a failed career he committed suicide by setting himself on fire on stage. Several attempts were made to find out if the suicide was true but no one ever got to the bottom of his personal life because no one succeeded in finding him.
A bootleg copy of Cold Fact surfaced in South Africa in the 70s. It rose in popularity because it was the era when South Africa was becoming isolated during the Apartheid. Cold Fact's message resonated among the white liberal youth and in reaction to the effect it had on a whole generation the government banned the album. The clincher was the rumored death of the artist which placed him in high esteem dying for a cause. Cold Fact became the battle cry for the South African white resistance and for twenty years Rodriguez was their hero.
The mystery behind the legend continued to puzzle two of Rodriguez's die-hard fans Segerman and Bartholemew. They teamed up to complete a research project about the personhood of Rodriguez which led them to investigate the royalties made from the Cold Fact album. One tip after another led them on a treasure hunt worth more than a chest of gold. Their discovery allowed Malik to produce one of the most amazing human interests stories every told about a rock star. Malik shares in his film Searching for Sugar Man an inspirational testimonial about the integrity of a musician who underestimated the power of music (his music) with a message once sent to another world. (Karen Pecota)


Second Opinion

Swedish director Malik Bendjelloul's film is a mystical detective story. It is a documentary, the true story of protest singer-songwriter Sixto Rodriquez who had been handpicked by two Detroit record executives in the 1970s to become a superstar and follow in the footsteps of legendary Bob Dylan. Rodriquez's two albums resoundingly flopped, and he ended up back on the streets of Detroit with no regrets, willingly doing construction jobs to support his wife and three daughters. Years later, a bootleg version of one of his albums was played at a radio station in South Africa; these ballads ignited into the protest songs of the anti-apartheid white youth. He was as famous as the Beatles and Bob Dylan combined. South Africa at the time was insular, isolated, and a pariah to the rest of the world. Little did his fans know that Rodriguez was totally unheard of elsewhere. They erroneously believed him to be well-known worldwide, but deceased.
This documentary retraces the journey of two South African music fans Steve Segerman and Craig Bartholomew-Strydom on their quest to discover what had happened to their idol Sixto Rodriquez. Heeding Deep Throat's famed advice to "just follow the money" combined with accessing the wonders of the World Wide Web they were successful in their search. They found Rodriguez in Detroit, convinced him he was a star in their homeland, and persuaded him to return to sold-out concerts. If there is a villain in this documentary, it is Clarence Avant, owner of the Sussex label that had originally released Rodriguez's two albums. When asked why Rodriquez had never received royalties from the 500,000 South African sales, Avant replied: "You think it's something I'm going to worry about, a 1970 contract? If you do, you're out of your goddamn mind." If there is a hero, it's the unassuming, cool gentleman in dark shades who liked to dress in a tuxedo to do construction work, the political activist who once ran for the mayor of Detroit, the brilliant singer-songwriter Rodriquez. If there is a winner, it's all of us.
Searching for Sugar Man is a fairytale come true lovingly depicted in a feature-length documentary. It's a masterful piece of storytelling where hope and talent triumph over all of life's woes including racial discrimination, poverty, and greedy record producers. At the beginning, the audience barely catches a glimpse of Rodriguez other than in some old publicity stills and in an animated scene of the singer in a hazy, smoke-filled nightclub. In the first half of the movie the artist is almost invisible, believed to be dead (swirling rumors abounded of a dramatic on-stage suicide); the soundtracks from Cold Fact and Coming from Reality keep the myth alive. Later, when Bendjelloul finally interviews Rodriguez in Detroit, the soft-spoken artist remains distant and engagingly ethereal, his dignity always remains intact. (This is the self-effacing man, his daughter explained, who never shirked from hard work; she touchingly reminisces about him single handedly carrying old refrigerators on his back.)
It's only when we see the videos of the ecstatic fans at his concerts in the 1990s in South Africa do we sense his brilliance, his magic, and yes, his triumph. Searching for Sugar Man is a feel-good movie where we can walk out of the theater believing that genuine talent is recognized, justice reigns, and that at least, just this once, the meek shall inherit the earth. (Pat Frickey)