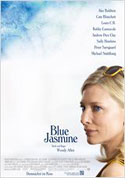 Opening 7 Nov 2013
Directed by: Woody Allen
Writing credits: Woody Allen
Principal actors: Cate Blanchett, Alec Baldwin, Peter Sarsgaard, Sally Hawkins, Andrew Dice Clay
Jasmine (Cate Blanchett) is blue. Bereft and troubled – "I can't be left alone" – she intrudes on her sister Ginger (Sally Hawkins) in San Francisco intent on starting a new life. Continually making comparisons to her past, for Jasmine everyone and everything falls short. Ginger's fiancé (Bobby Cannavale) – Jasmine's stay prevents him moving in – is a loser, yet Chili comes up with a career idea. His lowbrow friend (Max Casella) has a job tip. Flashing between past and present we meet Jasmine's husband (Alec Baldwin) and are acquainted with their extravagant – haute couture wardrobes, three homes, jewels – jet setting lifestyle before it is irrevocably altered. Jasmine's "habit of looking the other way" has, and leads to calamitous consequences for herself and those around her. Even the wealthy, widowed Dwight's (Peter Sarsgaard) attentiveness, her sister's kindnesses, and friends' help is not enough, narcissist that she is, to alter her course.
Woody Allen's script and direction is spot-on, totally absorbing and balanced. Equilibrium is maintained through Alisa Lepselter's editing, Javier Aguirresarobe's cinematography, and the flattering music choices. Albeit the entire cast is remarkably good, Cate Blanchett's performance keeps the momentum going. This flick not only guarantees a good time, but viewers are excursionists' to the East and West coasts as well. (Marinell Haegelin)


Second Opinion

Jasmine (Cate Blanchett) was a college student when she met and married Hal (Alec Baldwin), a handsome, wealthy New York financier. He drastically alters her life path. She instantly becomes a wife of wealth and over the years learns from her husband to belittle those less fortunate – including her own family. Jasmine comes to ruin as quickly as she came into wealth when Hal's fraudulent business is uncovered. Hal selfishly commits suicide and leaves Jasmine to put their house in order. Tormented by the intense scrutiny and ridicule, Jasmine walks away from a once high-flying lifestyle with no money, no securities and no friends.
Ginger (Sally Hawkins), Jasmine's sister, lives in San Francisco and offers Jasmine refuge in her meager abode. Grateful, but frustrated with the difficulties her transitional life reveals, Jasmine's process of self-discovery is painfully mesmerizing. It's a bleak picture of what happens when avoidance of the truth becomes her reality. (Karen Pecota)