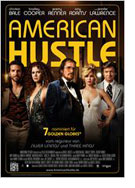 Opening 13 Feb 2014
Directed by: David O. Russell
Writing credits: Eric Warren Singer, David O. Russell
Principal actors: Christian Bale, Amy Adams, Bradley Cooper, Jeremy Renner, Jennifer Lawrence
A real life U.S. Federal Bureau of Investigation (FBI) sting operation that made headlines in the early '80s is the basic premise used by filmmaker David O. Russell and screenwriter Eric Warren Singer for their film American Hustle. The sting took down about a half-dozen United States congressmen and dignitaries on bribery and corruption charges – a scandal that followed close behind the Watergate cover-up and added to America's moral identity crisis.
Professional con-artist Irving Rosenfeld (Christian Bale), and his mistress/partner Sydney Prosser (Amy Adams), live by the motto that everybody wants something and will get what they want by telling lies. Their lies catch up with them, forcing the two to participate in an FBI sting operation with rookie agent Richie DiMaso (Bradley Cooper) to capture the players involved with money laundering for political cash gifts. Rosenfeld agonizes deeply when forced to betray his good friend, politician Carmine Polito (Jeremy Renner), and creates a plan to make the FBI pay dearly for putting those he loves in harm's way. (Karen Pecota)


Second Opinion

American Hustle is the type of film that is mesmerizing to watch, stylistically fun, and full of enthralling characters, but the improbable jumble of a plotline leaves it falling short of brilliance. What it does have are great actors, portraying quirky, explosive, damaged personalities, with strange mannerisms and ridiculous hairstyles, wearing great clothes that transport you straight back to the '70s.
Christian Bale plays Irving Rosenfeld, a paunchy, balding, small-time con artist who promises loans from powerful sources to desperate men for a $5,000 fee, then later informs them their loans were declined. A wonderful Amy Adams, as the elegant Sydney Prosser, is his lover and partner in crime until they are caught and forced to cooperate with volatile FBI agent Richie DiMaso, played by Bradley Cooper. DiMaso's ambition pushes them all deeper into a world of corrupt New Jersey politicians and mobsters, while relationships become entangled between Sydney, Irving, DiMaso, and Irving's unpredictable jealous wife Rosalyn, played by a brilliant Jennifer Lawrence.
Director David O. Russell takes us on an enjoyable ride, much the same as he did with Silver Linings Playbook, but I don't see a lot of originality in his style this time around. Their story is narrated by Irving, in a voice-over that gives a huge nod to Goodfellas, and an uncredited cameo by Robert De Niro further invites that comparison, but the way that the story wraps up neatly without really explaining the details is more reminiscent of Steven Soderbergh. Still, the acting alone is well worth the ticket price. (Shawn Klug)


Third Opinion

At the heart of Eric Warren Singer and David O. Russell's screenplay is a sting operation (codename "Abscam") that the U.S. Federal Bureau of Investigation ran in the late 1970s and early 1980s. In reality the operation culminated with the conviction of federal and state congressmen and senators, Philadelphia city council members, a New Jersey mayor, and an INS inspector (Immigration and Naturalization Service). The screenwriters' loose interpretation adds a mafia connection, glosses over some of the participants' ruthlessness and embellishes others liberally in what transpires to be a comedy rather than the advertised drama.
Shrewdly cast (Lindsay Graham, Mary Vernieu), the film's attention-grabbing production design (Judy Becker), art direction (Jesse Rosenthal), set decoration (Heather Loeffler), and costume design (Michael Wilkinson) definitely boost it. Director Russell encouraged improvisation on the set; in contrast to Dallas Buyers Club, the effectiveness fluctuates wildly. Granted their roles are one-dimensional, but should Christian Bale and Jennifer Lawrence receive Oscars© for doing their job? Then again, Amy Adams encapsulates her character's single-mindedness for success and control as a con-artist extraordinaire, with an underlying vulnerability, just as Bradley Cooper typifies a driven zealot with grandiose plans, an addictive personality, and imperviousness to authority. Time traveling to the 1970s surely catches audiences' imaginations: Sets swathed in vintage flock and foil patterned wallpaper and furnishings, and period references designed to evoke the mood of the scene. Bale's comb-over hair and extra 23 kg – 50 pounds (apropos De Niro's 60 pounds in Raging Bull, 1980) is a far cry from Batman form, and Renner's hairstyle upstages his first appearance onscreen. Showing lots of cleavage in classy retro dress styles with vintage accessories, Adams 'wows', as do Lawrence and Röhm clad in apt tackier versions.
The film's editing style is tricky – moving back/forth along the timeline in increments. Unusual editing methods are not favored because of the risk of confusing audiences that happens here. There are exceptions – Memento (2000) used two storylines told consecutively with one moving forward on the timeline while the other moves backward. Perhaps also contributing to its muddle was using three editors: Alan Baumgartner, Jay Cassidy and Crispin Struthers. Whereas Danny Elfman's music, supplemented with period tunes, ice-over hitches. Russell does not have his finger on the film's pulse: sacrificing story for character merely results in celluloid entertainment rather than a memorable movie. Still, all the hype surrounding American Hustle has surely boosted box-office returns. It has some stand-alone moments, but personally there are much worthier candidates for the Best Film 2013 Oscar®. (Marinell Haegelin)