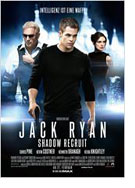 Opening 27 Feb 2014
Directed by: Kenneth Branagh
Writing credits: Adam Cozad, David Koepp, Tom Clancy
Principal actors: Chris Pine, Keira Knightley, Kevin Costner, Kenneth Branagh, Lenn Kudrjawizki
Director Kenneth Branagh thrusts viewers into the circumstances defining Jack Ryan's (Chris Pine) choices. Later recuperating at Walter Reed Army hospital, two encounters are significant: Col. William Harper (Kevin Costner) and Cathy (Keira Knightley). Three years pass: Ryan works for a private Wall Street bank. A brilliant financial analyst – cum CIA operative – he uncovers an anti-US economy plot originating in Russia. Reporting this, his handler insists he go to Moscow and infiltrate Cherevin, a powerful financial enterprise. Telling his fiancée, Cathy suggests they meet for a long weekend in Paris; Ryan reluctantly relents. At the well-fortified Cherevin edifice, Ryan realizes that the complex Viktor Cherevin (Branagh) has contrary plans. Which leaves him very little time to navigate and worse yet, Cathy shows up uninvited.
Although based on a character the late author Tom Clancy created, the story is original. Patrick Doyle's refreshing music, Haris Zambarloukos's cinematography, and Martin Walsh's editing are dead right. Chris Pine brings his own interpretation to the Jack Ryan character, not to be compared with Ben Affleck (The Sum of All Fears, 2002), Harrison Ford (Clear and Present Danger, 1994 and Patriot Games, 1992), and Alec Baldwin (The Hunt for Red October, 1990). Focusing on virtual espionage, this thriller reboot has strong acting and a robust attention-grabbing approach that is easy to enjoy. (Marinell Haegelin)


Second Opinion

The Russians are at it again in a reboot of Tom Clancy's successful Jack Ryan franchise. Jack (Chris Pine) is a boring, patriotic CIA data cruncher who struggles to keep his work secret from his girlfriend Cathy (Keira Knightley). When he uncovers a plot to destroy the American economy, Jack must travel to Russia to learn more. However, despite having little training, he is immediately forced to become a field agent as he comes up against a great terrorist threat.
Jack Ryan: Shadow Recruit is just another disappointment in a long line of uninspired Hollywood movie reboots. The point of a reboot is to bring freshness back into a franchise, but this film fails to bring Jack Ryan out of the Cold War. The baddies are still the Russians who are trying to destroy America through the use of sleeper agents. Considering this is a film not based on previously written material (unlike all of the previous Jack Ryan movies, e.g., Hunt for Red October [1990], Patriot Games [1992], Clear and Present Danger [1994]), this seems like lazy screenwriting.
In addition to the poor plot building, the characters all seem to be rather incompetent. Despite having no training as a field agent, Jack is sent into a dangerous situation because apparently the CIA had no one better to do the job (which seems ridiculous). Then when he faces a scenario of hand-to-hand combat he struggles greatly, even though he is a former Marine who was presumably trained in such things. Jack is even unable to keep his nosey girlfriend from throwing herself into danger because he is so bad at keeping secrets and because apparently there is some rule where CIA data crunchers can't tell their significant other what they do for a living. Don't even get me started on Cathy who legitimately flies all the way to Russia because she is positive that Jack is cheating on her. She's positive because of the overwhelming evidence of finding a ticket stub in his pocket to a movie he claims never to have seen and him not being able to make it to Paris because his work in Russia is going on too long. So she flies to Russia. Instead of, you know, talking to him about the issue. She isn't even the most infuriating character in the movie and that's saying something.
Ignoring the terrible story and stupid characters, it is possible to enjoy this film. It is quick, easy to understand and generally average. Not too terrible, but certainly not great either. It is the definition of an average action film. While it might be a good film to watch on a rainy afternoon when there is absolutely nothing else to do, there are many other films out there to see and spend your money on. (Rose Finlay)