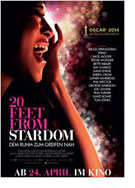 20 Feet from Stardom
U.S.A. 2013
Opening 24 Apr 2014
Directed by: Morgan Neville
Writing credits:

Bruce Springsteen opens and closes the show: "It's a walk… people make that leap… I know tremendous backup singers who aren't comfortable with that position. It can be a pretty long walk." Artists may be atypical but musicians are unique. The Blossoms were the first trio to break through the white backup singer wall; they worked prolifically in the 1960s once people felt and heard their freestyle singing with legendry including Buck Owens and James Brown. "Voices reared in the church bring a world with them"; many singers' fathers were pastors. These incredible artists share insights about what it takes to be out front, the many personality types on the ladder of success' rungs. Diamond-like aphorisms are scattered throughout. Twenty feet can be infinite as this documentary gloriously, heartening, and poignantly with a dash of bitter, portrays.
Skimming through decades of a century ago to present-day – thanks to Douglas Blush, Kevin Klauber and Jason Zeldes' dexterous editing – we learn how Ray Charles taught Merry to sing lead; the secret of Phil Spector's "wall of sound"; dance with Ike & Tina Turner and the Ikettes; join Sting and Lisa's rehearsal; attend Michael Jackson's 2009 tribute. The English "trying to be black" was initially amusing to backup singers, yet they allowed singers freedom to "go for it" that was exhilarating. As music evolved so did material; songs' hooks really belonged to the backup singers. When performers went on the road, realities set-in: war, civil rights, et al; the 1990s was when industry purse strings tightened. Director Morgan Neville's tapestry is unequaled: extraordinary music, fascinating archival material, historical components, and a sense of national pride regardless of color. Audiences should relate well to the music and performers, although I think the underlying themes will resonate on its deepest level with Americans. Here is a bittersweet reminder of a less greedy world when people were driven by the love of what they were doing rather than for money. Perhaps there are "no guarantees in entertainment," yet the 2013 Oscar® recipient for Best Documentary must-see is a guaranteed winner. English with German subtitles. (Marinell Haegelin)


Second Opinion

"Millions know their voices, but no one knows their names," is the tagline from the latest documentary film directed by Grammy nominee and filmmaker, Morgan Neville.
Produced by legendary recording executive Gil Friesen and Caitrin Rogers, Twenty Feet from Stardom is Friesen's swansong before leaving this earth on December 13, 2012, from complications with leukemia. Though not a musician himself Friesen's illuminating career in the music industry stemmed from his influence to help build the iconic A & M productions owned by Herb Alpert and Jerry Moss. Some note that it was one of the "most influential and successful" independent record labels in the country for at least three decades. The company began in 1962. In 1964, Friesen was A & M productions' second employee.
Friesen mentored several musicians who became stellar performers and hundreds more that became backup singers. Their style and sound made each star performer unique, but it was in Friesen's heart to honor the backup talent and show it through music history. After dialoguing about it with Neville he realized his dream in Twenty Feet from Stardom. The film shows how each singer has a story to tell of how their vocals dictated a unique performance style.
Warren Zanes, consulting producer on the project says, "Twenty Feet from Stardom was a way Friesen could tip his hat to some of the talent that had so enlivened his long career in the music business." A New York Times obituary read, "Friesen was someone who worked just beyond the footlights, just like the singers featured in the film." Zanes continues, "Aware that the film would premiere on opening night at the 2013 Sundance Film Festival, Friesen felt pure satisfaction." The Sundance upcoming debut of Twenty Feet From Stardom convinced Friesen that his unsung performers would not be forgotten once their story appeared on film and showcased in a venue that valued artists. He could not have asked for a better way to say good-bye to his fellow business associates.
Synopsis: "Backup singers pretty much all started in church choirs," says filmmaker Morgan Neville. The undeniable influences of faith, church and gospel music have given backup singers talent and grit to survive a tough music industry. Morgan's latest feature documentary Twenty Feet From Stardom is the heartfelt story and tribute to the talented singers who perform in the shadows of the superstar.
The historical account begins with famed African-American Darlene Love from the 1950s and continues to the most recent young acclaimed backup singer today, Judith Hill. She is the youngest featured in the film. Hill, a contestant on the 2013 hit TV singing competition The Voice. She is on track to become a solo artist. Hill says that one fact everyone in her profession must face is that when you are a backup singer, "There is a springboard at the beginning, but it can easily become quicksand if that's not what you want to do." Along with artists such as Elton John and Stevie Wonder, Hill worked with Michael Jackson on the project "This Is It" prior to his sudden death.
Several famous musicians share insights and the impact backup singers have made in the history of music, as well as, what the talent has unmistakably done for their careers. Cameos from artists such as Sting, Bette Midler, Bruce Springsteen, Stevie Wonder, Mick Jagger take to the camera but the real spotlight in Twenty Feet from Stardom are the voices and stories from these artists who have made musical history: Darlene Love, Mary Clayton, Judith Hill, Lisa Fisher, Tata Vega, the Waters Family, Claudia Lennear, Gloria Jones, Dr. Mable John, Lynn Maybry, Cindy Mizelle, Susaye Greene, Jo Lawry, Rose Stone and Janice Pendarvis.
Darlene Love, a member of the vocal trio the Blossoms, made it big, singing behind Sam Cooke, Dionne Warwick and Frank Sinatra when she was a young woman. Although fully capable of becoming a solo artist, her producer held her back because he needed her voice as a backup singer. Her story isn't a pretty one but today, in her 70s she is reunited with her Blossoms band mates having the time of their lives with the likes of Carole King's on the album Tapestry, or, Mick Jagger's "Gimmer Shelter", or Lynyrd Skynyrd's, "Sweet Home Alabama" or Joe Crocker's Feelin' Alright.
Lisa Fisher offers special insights into the ego required of backup singers as opposed to the solo artist--a Grammy-winning solo artist herself. She notes, "Some people will do anything to be famous; other people just want to sing."
Tata Vega, signed to Motown in the '70s as a solo artist. She made several albums but was dropped making her future fully uncertain. Her path was formed by connections in the business that continually moved her forward to a better position. While working with Gospel singer and songwriter, Andre Crouch, he introduced her to Quincy Jones. He introduced her to Steven Spielberg that landed her a vocal job on the film The Color Purple. She currently tours with Elton John.
Mable John came from a church singing background and signed with Motown under Berry Gordy as a solo artist but spent many years as a "Raelette" singing backup for Ray Charles. Today she is Dr. Mable John and the pastor of Joy in Jesus Ministries in Los Angeles. Her experience has taught her the need to be spiritually grounded whether you long for stardom or never reach it.
Thankfully the Weinstein Company acquired all North American rights and could launch the film. Elle Driver with Wild Bunch acquires worldwide rights--pleasing to Neville. No doubt that Gil Friesen would have been pleased. The distribution rights mean that the film will be in theaters. Twenty Feet from Stardom is a must see documentary and not only for music lovers. (Karen Pecota)