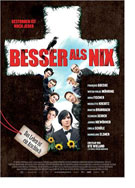 Opening 21 Aug 2014
Directed by: Ute Wieland
Writing credits: Peer Klehmet, Ute Wieland, Nina Pourlak
Principal actors: François Goeske, Wotan Wilke Möhring, Anna Fischer, Hannelore Elsner, Erika Marozsán
An original comedy that couldn't get any blacker, Besser als Nix will provide a whiff of fresh air to audiences not put off by the film's taboo-breaking sensibility. Tom (François Goeske) is 19 and just leaving school in a lame town where young people mostly drink beer next to the river. Tom's dad (Wotan Wilke Möhring) is an alcoholic, alienated from Tom since his wife's suicide. Following his mother's death, Tom has become a depressive black-clad Goth in mourning, opposed to everything and everyone. He's lucky to have a best friend in Mike, who defends him against the teasing of their classmates.
When Tom tells a job placement officer he'd like to work with people, as long as they don't talk too much, he's sent to an interview at the local funeral home. Appalled but desperate, Tom enters the imposing Victorian villa to find a bulbous-eyed funeral director with a pet raven and an odd, Morticia-esque co-worker with black lipstick and a Russian accent (Nicolette Krebitz). Deciding this gig is better than nothing, Tom accepts their job offer. There are moments of hilarity as he struggles to find appropriately funerary clothing, knocks over urns, and gags while preparing his first corpse. Just as he settles in to the job though, tragedy strikes, bringing death too close to bear.
25-year-old French-German actor François Goeske is a force to be reckoned with in a role that requires him to shift tonally from slapstick comedy to gut-wrenching despair.
Besser als Nix reminds us to rejoice in life, while it upends our notions about the appropriate dignity to assign to funeral rites. Sometimes you have to look death in the face so you can live again. (Brenda Benthien)