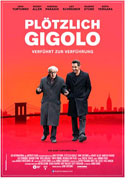 Plötzlich Gigolo (Fading Gigolo)
U.S.A. 2013
Opening 6 Nov 2014
Directed by: John Turturro
Writing credits: John Turturro
Principal actors: John Turturro, Woody Allen, Sharon Stone, Vanessa Paradis, Liev Schreiber
John Turturro may have written and directed this movie, but Woody Allen must have been sitting on his shoulder while he did so, because this is to all intents and purposes a typical Woody Allen one. Not only that, but Woody Allen plays an important part in it too.
At the beginning of the movie Murray (Woody Allen) and Fioravente (John Turturro) are packing up the contents of the bookshop which Murray inherited from his father and his father before him but which is now closing down owing to a lack of customers. Murray makes a chance remark to his old friend about a scheme he has thought up which could make them both some easy money (easier for Murray than for his friend, as it happens.) The scheme involves Murray's dermatologist who is looking to spice up her life and Murray thinks that Fioravente is just the man to help her. Fioravente may be a talented florist by trade but money is scarce, and he will miss the extra cash he has been earning in the bookshop. He listens to Murray's preposterous plan with amazement at first but Murray gradually wins him over and soon he is off, somewhat reluctantly, to meet Doctor Parker (Sharon Stone), the very glamorous and very needy dermatologist. Doctor Parker is thrilled with her new acquaintance and before long she introduces him to her friend Selima (Sofia Vergara), a lady as spoiled as herself. At first all goes well with Murray's scheme and money comes pouring in but then things start to go awry.
The trouble begins when Murray visits his rabbi's widow Avigal (Vanessa Paradis) and realises how lonely she is; he decides to introduce her to Fiorvente, too. This doesn't go unnoticed by her childhood friend Dovi (Liev Schrieber), who has designs of his own on the comely widow. Dovi wonders what is making Avigal behave so strangely and decides to investigate, telling himself that he only wants to protect her from getting hurt when she steps out of the narrow confines of her everyday life. (This movie provides some fascinating insights into the daily lives of orthodox Jews living in Brooklyn.)
The movie moves along at a steady pace at first, with Murray providing the funny and wry comments on life which fans expect from a Woody Allen movie. For example, when he introduces Avigal's six children to the African American ones he appears to have adopted, he starts to teach them baseball and says to himself, "let's get a little rainbow coalition going here." Unfortunately the pace of the movie starts to slow down and the camera lingers too long and too often on Fioravente's soulful gazes. The soundtrack, which includes some of Dean Martin's marvelous old songs, and the twist at the end of the movie save the day. If you are a Woody Allen or indeed a John Turturro fan then this movie, which played at the Toronto Film Festival, is one which you will enjoy. (Jenny Mather)


Second Opinion

What are friends for, eh? Living in a Brooklyn, New York Jewish neighborhood Murray (Woody Allen), with a family of four, is strapped for cash after his bookshop closes. When a plausible lead to come by quick, easy money falls in his lap, Murray reaches out to his florist friend. Although somewhat younger, Fioravante is (John Turturro) appealing in a tall, dark and quietly in control sort of way. Needing extra money as well, he agrees to help Murray, thereby entering the world's oldest profession. Both adopt aliases. Virgil Howard's practice session with Dr. Parker (Sharon Stone) is spectacularly successful; Selima (Sofia Vergara), the trois of the forthcoming ménage à, salivates while waiting for her tryout. Dan Bongo meanwhile lines up another potential client for his "ho" – the young widow of a Chasidic Rabbi. An interesting challenge, Avigal (Vanessa Paradis) responds to Fioravante's gentle back massage. Unbeknownst, Dovi (Liev Schreiber) uses his position in the Neighborhood Patrol to monitor Avigal's every move. Just as doubts bubble-up in Fioravante.
Writer/director John Turturro's debut film, radically different from his acting portfolio, is an unusually tender tale about life's divergent paths and the loneliness one often discovers. Allen, in top-class comedic form, contrasts naturally with Turturro's intelligent, sensitive portrayal. Shot in New York, (Marco Pontecorvo cinematography) visually and musically (Abraham Laboriel, Bill Maxwell) the film has a Woody Allen feel (more than Allen's Blue Jasmine 2013), and the film poster is reminiscent of American Beauty (1999). Still, everyone's finds his or her niche besides learning a thing or two in the process, much to our vicarious enjoyment. (Marinell Haegelin)