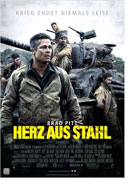 Opening 1 Jan 2015
Directed by: David Ayer
Writing credits: David Ayer
Principal actors: Brad Pitt, Shia LaBeouf, Logan Lerman, Michael Pena, Jon Bernthal
In April 1945 the end of World War II was, history proves, weeks away. For the men caught in the European Theatre waning campaigns it was still hell on earth. The outnumbered Allied tank divisions suffered greatly fighting Germany. Writer/director David Ayer's complex, character driven plot is about war's universality, not a good-bad guy scenario – excluding Hitler's SS and the Nazi Party. Its focus is a 24-hour period and the heroics of decent people thrust into atrocious situations.
Only Fury returns from a brutal battle. Army Sergeant 'Wardaddy' Collier (Brad Pitt) commands the Sherman tank's battle-hardened crew of five; the assistant driver was killed. His replacement, Norman (Logan Lerman) a clerk typist, is thrust upon them receiving a baptism of fire from 'Bible' (Shia LaBeouf), 'Coon-Ass' (Jon Bernthal) and 'Gordo' (Michael Peña). But the circumstance's overwhelming odds demand his quick study to survive. Equally voracious foes and pitched to fight to the end, German armaments are superior, their loyalty fierce, but have deficient leadership. Whereas American weapons are hastily built, their determination unflinching, but bold strategists lead.
Back then many Americans had never traveled outside their state. Men thrown together, New Yorkers with Ozark hillbillies and Stanford educated with high school dropouts were, after the initial shock, forced to adapt quickly. Such is the case in Fury. Vivid acting shows us the complexities of these men's hearts and souls: Pitt stands out with his nuanced, multilayered performance, as does LaBeouf's caring gunner, Bernthal's mercurial loader, and Peña's contemplative driver. As their antithesis, Lerman engagingly wavers then evolves. A key to each character's environment emerges through their exchanges.
Fury is augmented by high production values: Roman Vasyanov's camerawork, Jay Cassidy and Dody Dorn's editing, Steven Price's music, and the attention to details in production design, art direction, set decoration, sound department and costume design. The Tank Museum, Bovington, UK supplied seventy-year-old M4 Sherman tanks and a German Tiger tank. Archival footage is prudently placed, and bathed in bloodred under end credits. Tank crews have been the unsung heroes of WW II. American crews fought under terrifyingly horrific conditions suffering high losses. Bookended by WW II, Fury tautly examines war's hellish human consequences most memorably. (Marinell Haegelin)