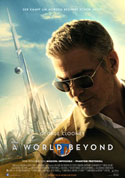 A World Beyond (Tomorrowland)
U.S.A. 2015
Opening 21 May 2015
Directed by: Brad Bird
Writing credits: Damon Lindelof, Brad Bird, Jeff Jensen
Principal actors: George Clooney, Hugh Laurie, Britt Robertson, Raffey Cassidy, Tim McGraw
Athena (Raffey Cassidy) tells Frank Walker (George Clooney) he is Special. Athena tells Casey Newton (Britt Robertson) she is Special. And, this film is Special. Tomorrowland is about the past, present, and an imminent future – an enigmatic world beyond that will only be possible if…
Frank and Athena meet at the 1964 New York World's Fair when, contrary to David Nix's (Hugh Laurie) appraisal, Athena gives whiz-kid Frank a pin, whereby he has the ride of his life. A half-century later scientifically gifted Casey receives a pin. Casey tells young Nate (Pierce Gagnon), "It's hard to have ideas, and easy to give up"; Nate helps Casey by-step their NASA engineer dad (Tim McGraw). Then something off-kilter occurs, time is short, and lots of cajoling, coaxing, and convincing is needed. Answers lead to the jaded inventor; baddies necessitate taking a dangerous leap-of-faith. The three pop up unexpectedly, whereby Nix – his honest assessment is skewed – is naturally wary. Until… flash… "She knows things".
Although a Star Wars fan, Oscar® winning director Brad Bird (Ratatouille, Mission: Impossible - Ghost Protocol) turned down directorship of Episode VII - The Force Awakens to make this film because of its originality. Written with Damon Lindelof and Jeff Jensen – the storyline has traces of Ayn Rand's Atlas Shrugged – the basic idea derives from Disneyland. In concert with Americans' spirit of optimism, Walt Disney's 1955 inauguration dedication for Disneyland's Tomorrowland included, "Tomorrow can be a wonderful age. … scientists today are opening the doors of the Space Age… … an opportunity to participate in adventures that are a living blueprint of our future." Disney's vision is encapsulated here, with tenets of history, ethics, and politics.
The affinity between Oscar® winner George Clooney (Syriana), Britt Robertson and Raffey Cassidy is compelling, complimented by fellow performers. Behind the scenes, the stellar team include Oscar® winners: cinematographer Claudio Miranda (The Curious Case of Benjamin Button, Life of Pi); editor extraordinaire Walter Murch (The English Patient, Cold Mountain) with Craig Wood (The Lone Ranger), production designer Scott Chambliss (Star Trek, Star Trek Into Darkness), and Jeffrey Kurland (Ocean's Eleven, Inception) costume designer.
This is your chance for one of Athena's pins. Dreamers are needed: "find the ones who haven't given up, they're the future". So, think twice before not accepting the pin, and finding out which wolf to feed. (Marinell Haegelin)


Second Opinion

Leave it to Disney Studios to take a nostalgic look (back) at the future. Set in three different time periods (1964/1984/2014), A World Beyond explores the practicality (and genius) of time travel and the moral dilemma it presents. A nostalgic look ahead as seen from our "youth" (for those over 45) and possibly a simplistic view of what the future might hold (for Generation Y-ers).
The film begins with the ending -- showing Frank Walker (Clooney) and Casey Newton (Robertson) filming a message for posterity explaining how it all happened and how they got to this point. They start with Frank's story and how he was a budding inventor 40 years ago who was hell bent on winning a prize for his invention. We see an adorable young and bright Frank (Robinson) creating a jetpack out of an old vacuum cleaner. Thrilling scenes of this boy genius in death-defying flight coupled with the wonder of a futuristic World's Fair pavilion make the first 30 minutes of the film magical. It's here that Frank first meets the super-intelligent Athena (Cassidy), an Audio-Animatronic robot which somehow holds the fate of mankind in its hands. She introduces herself as "the future" as is the pet project of David Nix (Laurie) -- the self-proclaimed leader/governor of tomorrow land. Initially unimpressed with young Frank's invention upon seeing the jetpack actually work he later has a change of heart and invites Frank to stay and create in Tomorrowland.
Fast forward 20 years and we see Casey using her wit and genius to break into Cape Canaveral to tamper with equipment set to demolish a launch pad, which would essentially putting her Astro-engineering father out of a job. She is arrested; when she's released she finds a pin which is a portal to Tomorrowland -- a place where anything is possible. As a scientist, she is immediately intrigued and determines to find a way back there. She runs away from home to find answers to her questions and a way to get back to Tomorrowland. She is met with cunningly, fiendish robots (Hahn, Key) who try to take the pine and kill her, a band of unstoppable assassin robots, and a trip through time and space in an effort to beat the clock to prevent the destruction of mankind.
Although heartthrob George Clooney was presumably intended as the box office draw, it's the girl power duo of Casey and Athena that makes this film fresh and interesting. A refreshing nod to the blossoming genius of girls. The plot is confusing, oft times unbelievable, and sometimes hard to follow forcing the audience to suspend disbelief permanently. The film has some astoundingly great visual effects, a nonstop adventure to the improbable, and a secret hideout with enough gadgetry to give 007 a run for his money, but it's not enough to draw the audience in and keep us from wondering about the impossibility of it all. Unfortunately, the movie leaves the audience in more of a conundrum than a state of utopia and hope. Probably not the summer blockbuster that the Disney machine hoped for considering the $190 million budget, but still worth the price of a buttered popcorn. (Ericka Seifried)