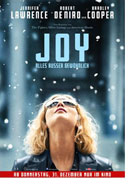 Joy - Alles außer gewöhnlich (Joy)
U.S.A. 2015
Opening 31 Dec 2015
Directed by: David O. Russell
Writing credits: David O. Russell, Annie Mumolo
Principal actors: Jennifer Lawrence, Robert De Niro, Bradley Cooper, Edgar Ramirez, Diane Ladd
Joy is an inspiring and true story about a woman who manages to beat the financial odds and realize her dreams of becoming a successful inventor, played out on the silver screen by a fleet of Hollywood A-listers. Who doesn't love a rags-to-riches tale? -- but is the script actually Oscar-worthy and is Joy Mangano's story one we all need to hear?
Interestingly told from the perspective of her supportive grandmother, Mimi (Diane Ladd), Joy weaves elements of the surreal and the outlandish world of daytime soap operas with the harsh realities of being a single, divorced, low-income mother. Joy (Jennifer Lawrence) herself plays the role of the matriarch of her Italian-American family long before she becomes financially sound. She is the glue that holds her dysfunctional brood together. Her nutty mother (Virginia Madsen) is physically healthy but bed-ridden by undisclosed depression (or anxiety); her father (solidly portrayed by Robert De Niro) is a philandering opportunist who "needs to fall in love, or else he's not interested" and depends on her to keep his business accounts in order as well as provide a place to stay; her competitive half-sister (Elisabeth Röhm) and her live-in, co-dependent ex-husband all seem to drain Joy of the ambition that her grandmother nurtured in her youth. Things begin to change when she's able to convince her father's wealthy girlfriend (a great performance by Isabella Rossellini) to front the seed money for her business venture and gets to pitch her idea to the retail exec (Bradley Cooper) who gives her a chance to sell her products via tele-shopping.
At times the script is slow-moving and takes us through her struggle to manufacture secure patents and wrangle with greedy businessmen. Her childhood friend Jackie (great to see Dascha Polanco, also known as Daya on Netflix's Orange is the New Black) and estranged husband (Édgar Ramírez, who also stars in the 2015 remake of Point Break) end up being the two people that help her reach her dreams.
If you recognize Mangano from the TV shopping circuit or happen to be a die-hard Jennifer Lawrence or De Niro fan or if you have fond memories of watching daytime soaps, you'll probably be happy to sit through this well-meant biopic. But don't expect to leave the theater feeling like you've just seen Norma Rae or Silkwood -- sadly Joy somehow seems to fall short. (Ericka Seifried)


Second Opinion

Watching Joy is reminiscent of viewing a former feel-good film, Forest Gump. Joy is chock full of good story content, clear character development and a great musical soundtrack. The film has good pacing and paints a straightforward picture of American inventor and entrepreneur Joy Mangano (Jennifer Lawrence).
Joy Mangano's story of rags to riches is of a single mother of two children who is trapped as the breadwinner for her multi-generational family. Joy's father Rudy (Robert De Niro) runs a body shop and offers limited help in her daily struggle of keeping the family afloat. Joy has always been creative and dabbles as an inventor of practical everyday items, but when she sees her latest idea being packaged and sold by someone else she commits herself to seeing her next design through to production and sale.
The old adage that "timing in life is everything" holds true for Joy. Through her former husband she is introduced to Neil Walker (Bradley Cooper), the head of Home Shopping Network sales team. Unknown to Joy she is on the cusp of a whole new way of marketing and selling items to the American public. Television sales. From this introduction she goes on air to pitch and sell her product, the self-wringing Miracle Mop. Her reception from audience members is overwhelmingly positive; the sale of 18,000 Miracle Mops in the first hour on television is where her success was born.
Joy Mangano's triumphant story started on television at Home Shopping Network (who years later bought Ingenious Designs, her design business). From her phenomenal Miracle Mop sales triumph she catapults into becoming an incredible business leader who goes on to patent over one hundred must-have items, which HSN continues to sell on air. She is credited for the invention and design of Huggable Hangers, Forever Fragrant, Comfort and Joy Textiles to name a few.
Joy is a lighthearted film, leaving viewers inspired that hard work can indeed reap success. The American story of acquiring wealth and fortune is alive and well and I, for one, still buy the dream! (Abby Myers)