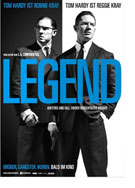 Opening 7 Jan 2016
Directed by: Brian Helgeland
Writing credits: Brian Helgeland, John Pearson
Principal actors: Tom Hardy, Emily Browning, Taron Egerton, Colin Morgan, Joshua Hill
The Kray brothers (both played by Tom Hardy) rise to notoriety during the 1950s and 1960s as gangsters ruling London's East End. The police and Scotland Yard take great interest in their numerous dealings. They also attract the attention of peers across the Atlantic: Meyer Lansky sends Mr. Bruno (Chazz Palminteri) to London with the task of establishing an agreeable partnership. At one point in the 1960s, London is their oyster.
Well, for Reggie: A club owner with perceptive business acumen and good managing people, his identical twin Ronald is disadvantaged, unstable. Indulging his whims and pleasures indiscriminately, often Ronald's business and character evaluations are amiss. As the Firm's negotiator, Leslie (David Thewlis) walks a tightrope, but financial rewards outweigh everything. Ron is devoted to Reg, sometimes too much. Hence, when Francis (Emily Browning) wins Reggie's heart and confidence, Mad Teddy's (Taron Egerton) allegiance to Ron is magnified. Regardless, Violet (Jane Wood) decrees her sons' loyalty is to family – unsurprisingly, the inevitable happens. With the situation spiraling out of control, Reggie's angst triggers a backlash.
Tom Hardy demonstrates his significant screen presence once again (Locke, 2013). The versatility required playing the twins' diametrically complex personalities is compelling. Based on John Pearson's book The Profession of Violence, writer-director Brian Helgeland's treatment evokes that freewheeling era, despite overlooking developing some characters. Still, all deliver convincing performances. His documentary background serves cinematographer Dick Pope admirably, while Peter McNulty edits sure-handedly. Carter Burwell's music fits like a fine leather glove. A legend often takes on a life of its own, overshadowing nefarious activities at its source. Helgeland's film version explores genetic and environmental influences on monozygotic twins, which makes for an interesting watch. (Marinell Haegelin)


Second Opinion

An alternative title for Legend could have been "Why are Nice Women Attracted to Nasty Men?" This is what happened to Frances Shea who fell in love with notorious gangster Reggie Kray whom she met in London in the early nineteen sixties. Frances narrates this true story of their time together throughout the movie.
Reggie and Ronnie were identical twin brothers who grew up in the East End of London, an impoverished part of the city and a lifetime away from the Swinging London of Carnaby Street and the West End. At the beginning of the movie Ron Kray (Tom Hardy) is released from a psychiatric hospital despite being diagnosed as suffering from paranoid schizophrenia. He rejoins Reggie (also played by Tom Hardy) and they continue their life as gang lords, controlling organized crime in the country's capitol. Before long they are so successful that they attract the attention of one of New York's mafia bosses who sends an underling to make a deal with them.
Reggie meets Frances (Emily Browning) when he knocks on her front door one morning. Her brother is Reggie's driver and he's late for work. The gangster and the pretty, aspiring secretary are instantly attracted to each other. Soon Frances witnesses a vicious brawl between the brothers in one of the clubs they own and, even though she is aware of his violent and criminal activities, Frances decides that Reggie is the man for her.
Nipper Read (Christopher Ecclestone) is the Scotland Yard detective who is permanently employed to follow the Kray twins' every move and his lifetime ambition is to bring them to justice. The twins should be easy to convict because they appear to crave an audience for their criminal acts, but they prove to be slippery prey and enjoy taunting the hapless but determined detective. Ron in particular courts danger because his increasingly scandalous and reckless behavior involves members of parliament, who willingly join in orgies at his London home.
Tom Holland's ability to play both twins is brilliant and fascinating. He portrays Ron as a man who is clearly unstable from the start but who descends further and further into a violent mental illness. He plays Reggie, the more attractive and likeable man (in the movie at any rate) as being more stable than his twin brother and who attempts to control and rationalise Ron's behavior. His life with Frances soon starts to spiral downwards and his instability increases.
The continual and increasingly viciousness of the twins and the atmosphere of ever increasing menace in the movie mean that you'll leave the cinema with a tension headache. This is a testament to the director's careful build up to his movie's conclusion. The Kray Twins were notorious psychopaths who thrived on publicity and loved rubbing shoulders with famous people. Here is yet another movie, albeit a fascinating one, which panders to their evil cult status and extends their legend. Based on the book The Profession of Violence; the Rise and Fall of the Kray Twins by John Pearson. (Jenny Mather)