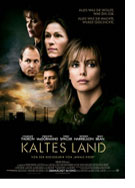 Kaltes Land (North Country)
U.S.A. 2005
Opening 9 Feb 2006
Directed by: Niki Caro
Writing credits: Michael Seitzman
Principal actors: Charlize Theron, Frances McDormand, Richard Jenkins, Sissy Spacek, Woody Harrelson
North Country is a fictionalized version of a true story based on the book Class Action by Clara Bingham and Laura Leedy Gansler. The real heroine was Lois Jensen who, in 1984, courageously and tenaciously spearheaded the first sexual harassment suit in a class action against a Minnesota iron mining corporation. It took 20 years, but the women won their case.
The men of the mine, including management, reacted with incoherent rage at the equal rights ruling which forced the company to hire women as miners and were determined to drive them from the jobs which they saw as an exclusive male domain. The film vividly illustrates the brutal hazing, physical and verbal violence, pornographic and scatological graffiti (including excrement smeared on the walls of the women's dressing room), threats, groping and rape to which the first women miners in the north Minnesota company were subject. The women, who were fearful of losing their jobs and helpless against the united male front, endured silently until Lois Jensen took a stand.
The film does not depict Jensen's personal history, although she was a single mother who took the job as a miner because it was the only one she could find which would pay enough support her and her children in their own home. And she did suffer, along with her comrades, the abuse depicted in the film. Possibly to make the fictional part of the film clear, Charlize Theron is called Josey Aimes and her fictional story includes Josey's father, the excellent Richard Jenkins, as one of the miners most violently opposed to the women. Most important to the film is Josey's friend and champion, Glory, played by Frances McDormand in a tour-de-force portrayal which deservedly brought her the Academy's nomination for best supporting actress, if not her second Oscar.
It is a gripping, well-directed, film which will leave you cheering. Only Theron is a difficult buy, possibly because the role is tailored to her talents in ways that really stretch credibility and because it seems highly unlikely that someone who looks like that would be a miner! But the story itself is fascinating and McDormand is a must-see. (Adele Riepe)