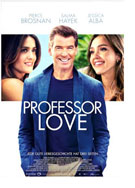 Professor Love (Some Kind of Beautiful)
U.K./U.S.A. 2014
Opening 9 Jun 2016
Directed by: Tom Vaughan
Writing credits: Matthew Newman
Principal actors: Pierce Brosnan, Salma Hayek, Jessica Alba, Malcolm McDowell, Marlee Matlin
Toffee-nosed Richard Haig (Brosnan) is a dashing, middle age professor of literature teaching the Romantic poets to a captive audience at Cambridge. He is following in the footsteps of both Lord Byron and more importantly his father Gordon (McDowell) who had been a legendary literature professor, also at Cambridge. Gordon now has evolved into a foul mouthed obstreperous old man, a far cry from his glory days and seemingly unrelated to and unrelatable to his son. Playboy Richard marries his stunning, alas pregnant student Kate (Alba), against his father's warnings, and moves to Malibu to live in a sumptuous Spanish style southern Californian villa, the kind of house often found in romantic comedies where daughters have rich daddies. But wait, before Richard's commitment to marry there had been a chance encounter with another gorgeous woman Olivia (Hayek) who just happens to be Kate's half-sister and best friend. It is quite clear from that moment on things will get complicated.
There are a number of comical moments in the movie though a kind of crude go for the cheap laughs humor creeps in. Brosnan, Alba, and Hayek are all three beautiful people who exude a glamorous, slightly decadent lifestyle. Unfortunately the film never quite finds solid footing at either Cambridge, Malibu, or in the real romantic comedy world. Even the fact that it was originally titled How to Make Love Like an Englishman and metamorphosed into Some Kind of Beautiful shows the filmmakers, along the way, somehow lost the plot. (Pat Frickey)


Second Opinion

The Haigs' share experiences: English literature professors at Cambridge, England; enthusiasm for Romanticism authors: Yates, Keats, Lord Byron—"It was Byron who defined the romantic age." Where father and son differ, is 'Carp-e-diem.' Gordon (McDowell) loves literature, life, women—four wives, and hates authority. Richard (Brosnan) loves all afore mentioned, but a tryst with a feisty American student (Alba) leads to an unanticipated first nuptial. Meeting Kate's older sister (Hayek) disintegrates into mutual aversion.
Flash-forward: ensconced in an oceanfront home in L.A., California with their son, Kate and Richard hit turbulent water. Divorce. Richard claims residence on the estate to be near Jake (Duncan Joiner), whereas Brian (Ben McKenzie) settles into the main house. Eventually, Richard's precarious predicaments—green card matters, new job possibility, et al.—collide. Belatedly, he appreciates colleague Angela's (Merrin Dungey) friendship, and, dissimilarities with dysfunctional dad. Still, "where there's a will there's a way!"
Tom Vaughan (Extraordinary Measures 2010, What Happens in Vegas 2008) directs this light romantic comedy. Matthew Newman's ambitious screenplay's two too many subplots muddy otherwise clear water. However, Brosnan, Hayek, Alba, McDowell, and young Joiner's acting sail a clear course, with equally strong supporting character actors. Production values are good: David Tattersall camera, Matt Friedman editing, and Stephen Endelman music. Lampooning American's common social preoccupations humorously hits the mark, albeit a depressing commentary. For many, uncomplicated funny entertainment is refreshing, thus debunking some critics' claims. (Marinell Haegelin)