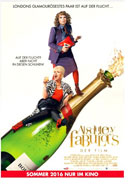 Absolutely Fabulous: Der Film (Absolutely Fabulous: The Movie)
U.K./U.S.A. 2016
Opening 8 Sep 2016
Directed by: Mandie Fletcher
Writing credits: Jennifer Saunders
Principal actors: Jennifer Saunders, Joanna Lumley, Julia Sawalha, Jane Horrocks, June Whitfield
This movie is, well, absolutely fabulous. Jennifer Saunders has managed to write an enjoyable big screen version of her original TV series which burst into the lives of a delighted public in the nineties. She has also persuaded over fifty celebrities from the glittering world of the fashionable to take part in her movie and suggests that we need to watch it twice in order to spot them all.
Eddie (Edina) is played by Jennifer Saunders herself and she is first seen with Patsy (Joanna Lumley) as they totter and stumble about, full of bubbly, at a P.R. launch. Eddie is the owner of a P.R. company and has recently added supermodel Kate Moss to her list of illustrious clients. Unfortunately Eddie and Patsy accidently cause Kate to suffer a most unfortunate calamity, life takes a distinctly downward turn for the pair and the events of the story begin.
Director Mandie Fletcher has taken the script and turned it into a lighthearted piece of froth which keeps the pace moving along so quickly that the audience's attention span doesn't waver (unless you are celebrity spotting.) The action moves from the London of the rich and famous to the fading glories of the French Riviera, with gorgeous scenery, impressive interiors and some clothes to covet.
All the original members of the cast are here. Eddie's mum (June Whitfield) her long-suffering daughter Saffie (Saffron) (Julia Sawalha) and Bubbles (Jane Horrocks), Eddie's not so incompetent assistant, play excellent supporting roles. There is a stunning newcomer, Saffie's thirteen year old daughter Lola (Indeyarna Donaldson-Holness) and true to their self-centred selves, Eddie and Patsy use the child to their advantage.
Some of the jokes are cruel. Lola's father is "from Ebola or somewhere" and Brigitte Bardot is "back in nappies" and many are in bad taste but the clever script and the enjoyment of everyone who takes part in the movie makes the outrageous behaviour and sheer silliness of it great fun to watch. (Jenny Mather)


Second Opinion

First airing in 1992, the British Broadcasting Corporation (BBC) television sitcom Absolutely Fabulous ran until 1995, and thereafter sporadically through 2012's 20th anniversary series. Basing it on a (Dawn) French & Saunders comedy sketch from 1990, Jennifer Saunders created, wrote and stars with Joanna Lumley as her gal-pal. Its fan base is global and devoted following their careers, mishaps, and relationships—family, amore, competitors, and colleagues.
Saunders' screenplay, ever-witty pointed humor, puts fashionista grandmum Edina (Saunders) and cohort Patsy's (Lumley) fashion-jungle positions in question. Unchanged are their favorite indulgences: hottest trends, alcohol, recreational drugs, and men. Playing Edina's public relations rival with aplomb is Celia Imrie. Julia Sawalha as Edina's long-suffering daughter Saffron balances deep-rooted cynicism with parental concern for her 13-year-old, enjoyably portrayed by Indeyarna Donaldson-Holness. Jane Horrocks as Bubble and June Whitfield as Mother heartily revive their rolls. From London's fashion week to a hoity-toity launch party and the Riviera, Saunders and Lumley's zing, comic timing, and likeability are constant.
Mandie Fletcher's direction, combined with editing (Anthony Boys, Gavin Buckley, Billy Sneddon) lack verve. That is offset by a plethora of personalities passing through the frames: Chris Colfer, Lulu, Graham Norton, Jon Hamm, Jean-Paul Gaultier, Pandemonia, Jeremy Paxman, and, and, and. With more hang-ups than you can shake a stick at, Edina and Patsy's escapades are addictive fun-for-all that audiences cannot get enough of. (Marinell Haegelin)