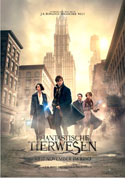 Phantastische Tierwesen und wo sie zu finden sind (Fantastic Beasts and Where to Find Them)
U.K./U.S.A. 2016
Opening 17 Nov 2016
Directed by: David Yates
Writing credits: J.K. Rowling
Principal actors: Eddie Redmayne, Katherine Waterston, Alison Sudol, Johnny Depp, Colin Farrell
The opening screen flashes newspaper headlines of 1926 New York City. A bustling metropolis filled with terror as a dark wild wind wrecks havoc; demolishing cars, buildings, anything in its way, spinning uncontrollably through the streets. A name flashes across the papers headlines, could this be Grindelwald (Johnny Depp)?
Arriving in New York harbor is Newt Scamander (Eddie Redmayne), a visiting wizard who is a shy, introverted, eccentric magizoologist. He is on a one-man mission to find and protect magical creatures worldwide. As one of his creatures escapes, this family adventure fantasy kicks into high gear. Newt makes his way through the streets of New York running head long into foes, creating alliances with new friends as well as overcoming roadblocks set before him. The climax of the 133-minute film finds Newt and his band of accomplices confronting evil wizard Percival Graves (Colin Farrell) and assisting in the capture of Grindelwald.
Fantastic Beasts and Where to Find Them is not a Harry Potter prequel but rather a stand-alone tale, which takes the viewer into the extraordinary world of magic and magical creatures. J.K. Rowling, who has penned the first of five screenplays (four more films slated to be released over the next several years), continues to delight fantasy lovers with strange, exotic and fanciful creatures woven into a story centered on Newt Scamander.
Colleen Atwood, an award winning costume designer, creates a visual pallet authentic to the 1920's. James Newton Howard's music beautifully captures the roller coaster of emotions we see and feel as the movie progress. The production value by Stuart Craig and James Hambidge is nothing but enchanting, it allows the viewers to see and sense the wizardry and mystery of New York.
J.K. Rowling's spellbinding storytelling even without our favorite hero, Harry Potter, will be a favorite family outing. (Abby Myers)