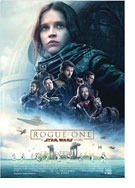 Rogue One: A Star Wars Story
U.S.A. 2016
Opening 15 Dec 2016
Directed by: Gareth Edwards
Writing credits: Chris Weitz, Tony Gilroy, John Knoll , Gary Whitta, George Lucas
Principal actors: Felicity Jones, Diego Luna, Alan Tudyk, Donnie Yen, Wen Jiang
In 1977, George Lucas' imaginative vision became one with the planet earth, introducing us to a faraway galaxy, and the ensuing trilogy: Star Wars, The Empire Strikes Back (1980) and Return of the Jedi (1983), space operas of epic proportions that became universal pop culture sensations. Alliances were formed, even if great evil persevered, but then so did hope. Repeat the mantra, "I'm one with the Force, and the Force is with me" – now leap into the yet-to-be-traveled future.
Strong-willed Jyn (a forceful Jones – move over, Han Solo) would rather remain a criminal, but the Rebels give her no choice. She is their key to her scientist father (Mads Mikkelsen), and Saw Gerrera (Forest Whitaker). Realizing their perilous position, Mon Martha (Genevieve O'Reilly) and Rebel Alliance associates know it is essential to destroy the Galactic Empire's super-weapon. Cassian Andor, Intelligence officer, leads Jyn, the droid K-2SO (Tudyk), and team to steal the Death Star's schematic design diagrams to, hopefully, save the dream.
Greig Fraser's resourceful cinematography zips us deeper into the galaxy's dark parallel action, compliments of Gareth Edwards' ardent direction, and a decisively talented cast. Filming locations add to its authenticity, and include Iceland, Jordan, and Laamu Atoll in the Maldives. Production design, costumes, et al. is evocative of the initial Star Wars series, maintaining its continuity. John Gilroy, Colin Goudie, and Jabez Olssen's visionary editing receives additional thrust from Michael Giacchino's music.
Spawning a franchise empire through the canon he created, Lucas' characters are the source of this solid, vividly intense story, which is pivotal for the anthology series spin-offs scheduled for 2018 and 2020. Therefore, buckle in, and relax; you will encounter old acquaintances and new as we travel with Rogue One to this fantastical galaxy. (Marinell Haegelin)


Second Opinion

Things are looking grim for the Rebel Alliance as the Empire becomes increasingly powerful. When news comes of a giant planet-destroying ship, the Alliance seeks the help of Jyn Erso (Felicity Jones) to help uncover the plans to destroy it. With the help of a spy (Diego Luna) and an unlikely group of allies, Jyn will face the greatest struggle of her life all in the hope of defeating the greatest evil the galaxy has ever seen.
There are many out there who will say that Rogue One is a great film. It is certainly grittier than other forays into the Star Wars franchise, and the computer graphics continue to impress. However, there is more to a film than a dark storyline and glitz and glam. It helps when the story has heart, when the audience can connect with the characters, and, of particular importance in a long-running series of films, when the film adds something of value to the overarching story. Unfortunately Rogue One fails to be effective in any of these areas.
There is a brief period of some 19 years between the end of Star Wars: Episode III – The Revenge of the Sith and Star Wars: Episode IV - A New Hope (1977). This time period is not really touched upon by the Rogue One, instead the story focuses only on a few days prior to the beginning of A New Hope. We are introduced to all new characters (aside from a couple of cameos from other films), and are immediately thrown into a whirlwind of different planets and random alien names in a race against time to find Jyn's mentor, then Jyn's father, and then the plans to the Death Star. All of this is smushed together in a 133-minute film, where we also meet a new throwaway bad guy, and somehow have to also learn to care about the main cast of heroes, most of whom have no backstory to speak of and certainly no time to explore their motivations, fears, or desires. Add to this the fact that we know that no one in this film is ever mentioned again in the rest of the series… and well, let's just say it doesn't take a genius to figure out the majority of the story ahead of time. Don't we all know how it ends anyways? The Rebels get the blueprints and the Luke blows up the Death Star. Why did this film need to be made? What does it add to the franchise? The unfortunate answer to this is that it adds very little, except, of course, a lot of money for the studios.
Considering the rich and expansive universe that the Star Wars films inhabit, it is disappointing that the story of Rogue One is what it is. It is an unnecessary addition with a rushed plot, underdeveloped characters, and very little worth outside of some impressive CGI. However, even the CGI suffers by the restraints of its setting, as there are some uncanny valley moments when characters from the original series (such as the late Peter Cushing's General Tarkin) are computer animated with uneasy results. Rogue One is an action-focused film, and will certainly be entertaining to most who watch it. Nevertheless, those who seek something with a little bit more depth and heart are certain to be frustrated with this new entry to the franchise. (Rose Finlay)


Third Opinion

Rogue One opens with the famous phrase, "A long time ago in a galaxy far, far away…" which gives us an immediate sense of security. We have now entered the world that George Lucas created for us since 1977. Now that the stage is set for this epic space opera to take off into a universe filled with planets, spaceships and storm troopers, our expectations naturally are running high. The opening scene begins with Jyn Erso (Jones) running to warn her parents that a group of unwanted intruders have just landed. A quick pace is set and the film barely takes a breath long enough for us to get attached to any of the characters. Her mother is killed immediately after saying, "Trust the Force," while her father is taken away to complete the weapon of mass destruction known as the Death Star which he created. Jyn crawls into an underground manhole and is later rescued by the fearless Saw Gerrera (Forest Whitaker). We then jump into hyperspace and land on some planet where Jyn is now imprisoned and is rescued by the rebel Captain Cassian Andor (Luna) and the android K-2SO (Tudyk) who plan to use her in order to reach her father and get the plans of the Death Star. The character K-2SO is there for comic relief and Tudyk has made a career playing such characters. He also has great lines but unfortunately the timing of this film doesn't let his jokes take effect on his audience but instead moves onto another fighting scene.
There is no shortage of action and fighting scenes on numerous planets as well as spaceships set at different coordinates throughout the galaxy. It reminds me a lot of the age-old, but loved, video games called Stars Wars Battlefront which first came out in 2004. Many of the landscapes shots in this film are reminiscent of backgrounds scenes in these games. The film had its political agenda. Clearly it was a totalitarian state which needed to be defeated in this film and I was glad to see a group of international actors take their positions but where were all the wonderful creative creatures like Chewbacca the Wookie or the Banthas or Yoda the Jedi warrior? I found it a pity that if this film was to makes some sort of political statement that they didn't include more individual creatures that have also a place in the universe. But what the heck: "Rebellions are built on hope," so I continued to watch this film as I put my "Trust in the Force" to follow it through to the end. This film will be pleasing to those Star War's fans who love battle scenes, spaceships, storm troopers and diverse planets. This film does not contain strong character development with lovely costumes or wildly creative creatures. If you have high expectations then you will be disappointed so keep them low and be entertained. (Shelly Schoeneshoefer)


Fourth Opinion

Ordinary citizen warriors form a rebellion alliance on a rogue mission to find the secret plans of the Death Star, the Empire's weapon of destruction. If found, the rebels have the power to deactivate the Death Star's main course which is to seek and destroy anything in the path of Lord Vadar's (voice James Earl Jones) aspirations for ultimate control of the Empire.
An Empire State leader, Mon Mathma (O'Reilly), orders warrior and criminal, Jyn Erso (F. Jones) to retrieve the Death Star plans that ultimately puts lives of the people she loves in danger. Unhappy about being used as a political pawn, Jyn comes to understand that if her mission is accomplished efforts will be written in the Star Wars annuals under heroism--following in the footsteps of her father, Galen Erso (Mikkelsen). Jyn rallies her warrior band by using these words to encourage them: "Rebellions are built on hope."
Senior effects supervisor and storyteller John Knoll explains the timeline of the first of a series of stand-alone Star Wars theme films from Lucasfilm, Ltd. LLC in Rogue One: A Star Wars Story. Knoll says, "This is a time after Episode III and the purge of the Jedi where all the remaining Jedi have gone into hiding." He adds, "It's before Obi-Wan comes back and Yoda reappears. Ordinary citizens are the ones who have to step-up and show their heroism." And, they do this with the help of a few familiar Star Wars friends.
In order to save the Empire from evil influences, these particular ordinary citizens, from all walks of life, come together during a time of conflict. Cassian Andor (Luna), Saw Gerrera (Whitaker), Bodhi Rook (Ahmed), K-2SO (Tudyk), Blind warrior Chirrut Imwe (Yen) and Baze Malbus (Wen Jiang) are the "band of brothers" of outlaws that form with Jyn and her father, Galen to destroy the evil that paralyzes the Empire's good intentions. The mission brings together these commoners that choose to attempt extraordinary feats at the risk of their own in order to bring peace and safety for future generations within the Star Wars Galactica. (Karen Pecota)