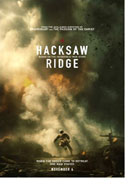 Opening 26 Jan 2017
Directed by: Mel Gibson
Writing credits: Robert Schenkkan, Andrew Knight
Principal actors: Andrew Garfield, Sam Worthington, Luke Bracey, Milo Gibson, Darcy Bryce
After Japan attacked the U.S. Pacific Fleet's strategic navel base at Pearl Harbor December 7, 1941, Americans joined the European and Pacific theatres. In Europe the Geneva conventions was, in general, followed. Japan, however, had a different cultural mindset. Recognizing the island's important tactical support position, the U.S.'s 82-day Battle of Okinawa, April – June 1945 was ferocious, bloody, intense. Equally, being a pacifist does not equate cowardliness.
Director Mel Gibson divides Hacksaw Ridge into: sixteen years prior to 1945, thereby establishing Desmond Doss' personal life; now, i.e. integration into the Army; Okinawa's battle, ending with pre-credit follow-up information and interview clips with the men themselves. Growing up in the Blue Ridge Mountains to a drunken father (Hugo Weaving) and battered mother (Rachel Griffiths), a brawl tempers the brothers (Darcy Bryce, Roman Guerriero) rambunctiousness. Flash-forward fifteen years: Desmond (Garfield) meets his future wife (Teresa Palmer); Hal (Nathaniel Buzolic) incurs their dad's wrath for joining the Army, whereas Des enlists, but as a conscientious objector medic. During Des' basic infantry training, the rifle company's men, Sergeant (Vince Vaughn) and Captain (Worthington) realize the depth of his convictions. It is on the battlefield where they experience, and profit from his mettle.
Robert Schenkkan and Andrew Knight's screenplay encapsulates a tremendous amount of information that Gibson neutrally, compassionately portrays. Heightening its value is an outstanding cast, and filming on location in collaboration with Simon Duggan's cinematic framing, Barry Robison's production design, John Gilbert's tight editing, Rupert Gregson-Williams' music. Life can be tough, and wartime is nasty—rough scenes are reminiscent of A Thin Red Line, Saving Private Ryan—yet goodness in nature provides incidences, and wisdom. Desmond Doss' individual valor astounds, heartens; in addition to the Medal of Honor, Doss received Purple Heart and Bronze Star with "V" Device medals for heroics during World War ll.
Hacksaw Ridge attests to personal convictions, and civic knowledge/courage's cruciality, while telling a compelling true-life story. Premiering at the Venice Film Festival in September 2016, it received a 10-minute standing ovation afterward. (Marinell Haegelin)


Second Opinion

A forgotten hero, U.S. Army medic and conscientious objector, Desmond T. Doss was the only American soldier in WWII to fight on the front lines without carrying or firing a gun. In 1945, Doss was stationed in Okinawa, during the most deadly days of the Pacific war. On one particular day, Doss single-handedly rescued seventy-five wounded men behind enemy lines from the bluff of Hacksaw Ridge, crossing extreme fire zones while suffering from severe wounds himself.
Filmmaker Mel Gibson, known for making big themes relatable, brings the extraordinary story of Doss to the silver screen. Gibson recalls, "When I heard the story of Desmond Doss, the first conscientious objector in the U.S. to receive the Medal of Honor, I was astounded by the extent of his sacrifice. Here was a man who, in the most pure, selfless, and almost unconscious way, repeatedly risked his own life to save the lives of his brothers. Desmond was a completely ordinary man who did extraordinary things." (Karen Pecota)