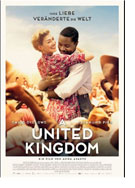 Opening 30 Mar 2017
Directed by: Amma Asante
Writing credits: Guy Hibbert
Principal actors: David Oyelowo, Rosamund Pike, Jack Davenport, Tom Felton, Laura Carmichael
In London, 1947 Sereste Khama (David Oyelowo) meets Ruth Williams (Rosamund Pike) at an evening social of the London Missionary Society. The attraction is immediate and after an evening of political discussion and jazz enjoyment, they talk together until dawn. They cannot easily walk away from each other. Ruth is British and white. Sereste is African and black, and the heir to the throne of Bechuanaland (today Botswana). Based on a true love story, this film is a terrific presentation of how strong love, deep seated values and human decency can triumph over pecuniary interests pursued by corrupt governments.
Sereste and Rosamund marry quickly in Britain to the consternation of the British government as embodied in Sir Alistair Canning, the British envoy to South Africa. They make it to Beschuanaland but are not welcomed by the regent, Sereste's Uncle Tshekedi (business Kunene) or his sister Naledi (Terry Pheto), nor his Aunt Elle (Abena Ayivor), who all feel deeply betrayed by Sereste's choice of a white British citizen over a local woman. While they both fight their own battles against bigotry and racism, Ruth becomes pregnant. They are summoned to London but Ruth stays behind with the help of locals who were won over by her efforts to embrace their culture. However once Sereste is in Britain, the government contrives to keep him there, barring him from returning to his homeland. Why so much interest in such a small country? Sereste engages a journalist to help find out and over time, spent alone by Sereste and Ruth, each in their non-native countries, all is revealed. A wonderfully expressive cast rounds out this stirring real life drama that unites two cultures for the good of a small nation. (Mary Nyiri)


Second Opinion

A complicated, international, politically charged historical fact is encapsulated in Guy Hibbert's screenplay: When the populace of a British protectorate, Bechuanaland, put their trust and support in their future kgosi (king), and themselves. The engaging story centers on the controversy surrounding Sir Seretse Khama, and Ruth Williams: their romance, marriage, and ensuing difficulties. Against overwhelming odds, Khama, with his wife at his side, led the country's independence movement, which was attained in 1966 when the new name, Botswana, was adopted. The screenplay is based on Susan Williams book, Colour Bar.
Oyelowo (Seretse Khama) and Pike (Ruth Williams Khama), whose performances are strongest when delivering their characters heartfelt, pointed speeches, lead the worthy cast. Delivering nuanced performance are Pheto and Vusi Kunene as Khama's sister, and uncle respectively. Davenport (Sir Alistair Canning) and Felton (Rufus Lancaster) raise one's bile as the government's nasty agents. Playing their wives, Jessica Oyelowo (Lady Lilly) and Charlotte Hope's (Olivia Lancaster) snide looks/smirks speak volumes.
Amma Asante's direction is good, if insipid. Lingering on sentimentality, Asante misses opportunities to emphasize more of Ruth's challenges assimilating into Batswana lifestyle, and government/apartheid intrigues. Color aside, in Africa Ruth is a commoner, an outsider, whereas for the Commonwealth she is disrupting ulterior political gain. The film's timeline is shifted for dramatic effect; production values are good. It is the Kahama's compelling story that is worth seeing, because its impact crosses boundaries on many ever-relevant levels. (Marinell Haegelin)