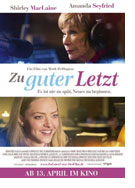 Zu Guter Letzt (The Last Word)
U.S.A. 2017
Opening 13 Apr 2017
Directed by: Mark Pellington
Writing credits: Stuart Ross Fink
Principal actors: Shirley MacLaine, Amanda Seyfried, AnnJewel Lee Dixon, Thomas Sadoski, Anne Heche
Bored, therefore cantankerous, Harriet (MacLaine) decides it is time: Harriet is always in control. Yet, a spilt glass of wine offers an unthought-of alternative. She hires her obituary writer. They definitely do not hit it off. Interviewing associates, friends, and Harriet's ex (Philip Baker Hall), Anne (Seyfried) quickly learns Harriet burned bridges rising to the top, and as a successful businesswoman. When Harriet assails her first draft, Anne candidly answers, "You're the problem." Harriet stews, then embraces the challenge. In doing so, she undertakes helping the at-risk Brenda (Dixon), discovers a hidden talent, and a new friend (Sadoski). Circumstances shift, manifesting their untapped potentials, and effect on one another. The three have more in common than they thought.
Atypically, The Last Word's focus is three females from three generations and backgrounds. Mark Pellington's fine, subtle direction, and Stuart Ross Fink's screenplay touching on everyday conditions attribute to this empathetically smart, witty, exploration of relationships. Legendary Shirley MacLaine's finesse is exquisite to watch especially contrasted to Seyfried and Dixon's characters. Anne: at a pivotal point in her life but petrified to take risks, and Brenda: sassy, intelligent, and lacking direction. Anne Heche's performance as Harriett's daughter is notable. Production values are strong, and vinyl songs from the century past expand Nathan Matthew David's music.
The film reminds audiences of limitations, and advantages, inherent in life's phases – youth, adulthood, and most difficult old age. Balancing its playfulness is solemn dignity and MacLaine's poignant performance ensuring guys and gals – take tissues – enjoyment. 108 minutes (Marinell Haegelin)


Second Opinion

Is it wise to be the chief executive of a movie which you are starring in? Will criticism, especially self -criticism go by the board when the star is as popular as the mega star who appears in almost every scene of The Last Word?
Shirley MacLaine is that mega star and she plays the retired businesswoman Harriet Lauter who realises in her golden years that she is friendless and unloved by her family despite having a very successful career. Harriet lives alone in a sumptuous house but makes the life of her maid and gardener a misery. When she mops up her spilt wine with the local newspaper she glances at the obituary section and wonders what hers will be like. Naturally, she wants her obituary to show her in a shining light and to that end she employs Anne (Amanda Seyfried) to write one to her satisfaction and which she can supervise while she is still alive. Anne is faced with a dilemma as she soon realises that nobody has a kind word to say about Harriet.
Inspiration appears in the form of Brenda (Annjewel Lee Dixon) Harriet befriends this at-risk child and before long she, Brenda and Anne set off to find Harriet's long lost daughter.
Shirley MacLaine's star quality shines throughout this movie but she is let down by the script. The problem with The Last Word is that it is so predictable. You always know what is going to happen next and what the outcome will be. If this movie is Miss MacLaine's swansong then it does her a disservice. She deserves to leave the movies with a bang rather than the damp squib which this one is. (Jenny Mather)