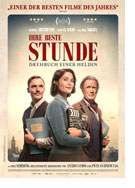 Ihre beste Stunde - Drehbuch einer Heldin (Their Finest)
U.K./Sweden 2016
Opening 6 Jul 2017
Directed by: Lone Scherfig
Writing credits: Gaby Chiappe, Lissa Evans
Principal actors: Gemma Arterton, Sam Claflin, Bill Nighy, Jack Huston, Paul Ritter
In 1940, the Blitz is ravaging London, and the war office is desperate to boost the country's morale. Buckley's (Claflin) penchant for fish and chips leads him to Mrs. Cole (Arterton). The British Ministry of Information proffers a proposal. With a struggling artist husband (Huston), Catrin needs a better salary to cover expenses. So, the novice screenwriter suffers Buckley's arrogance, until presented an opportunity to check out the authenticity, optimism, and poignancy of a story. A fast learner, Catrin is willing to apply creative license when push comes to shove. This sets off a string of events that leads to filming in Devon, finessing an aging ego (Nighy), winning a colleague's support (Rachael Stirling), and an unexpected conclusion.
Set suppositions aside – this film defies pigeonholing. Lissa Evans' novel, Their Finest Hour and a Half (2009) is Gaby Chiappe's basis for her conscientiously rhythmic screenplay. Lone Scherfig adroitly, sans embellishment and sentiment, directs a stellar cast that appreciated frequent rehearsing prior to filming. Production values are solid. For the producers, establishing the film's tone was a primary concern. Scherfig finely balances the comic/dramatic interplay; the Danish auteur brought no preconceptions to the project. She thinks Arterton's generous, congenial real-life personality added dimensionality to her portrayal of Catrin. Of Nighy, producer Stephen Woolley says, "Working with Bill is a total joy, he was born to play to [sic] Ambrose." Claflin's Buckley is Prince Charming, albeit with imperfections and misdemeanors Chiappe strove to incorporate.
It is recognized in Britain that these 1940s wartime propaganda films, like the protagonists are crafting, shaped British cinema development; Hollywood glitz and glamour became irrelevant during war. Regardless, with women at the helm Their Finest maintains integrity and wit while having soul, subtlety, and depth. (Marinell Haegelin)


Second Opinion

As everybody knows, the British Broadcasting Corporation is obsessed with the two world wars. Their latest movie, Their Finest, thank goodness, focusses on a different aspect of the last world war from the usual sort of war movie. Propaganda films were an important part of the war effort in Britain because they attempted to boost and sustain morale and this movie shows one being made.
Mrs. Cole (Arterton) applies for a secretarial post, but finds herself writing patriotic jingles for advertisements. Soon she is promoted to full time screenwriter 'on less money than a man of course' for a film about the evacuation of Dunkirk. Defeated soldiers early in the war were pushed back to the beaches of northern France and brought home by a raggle-taggle fleet of fishing boats and old rowing boats.
The film is set in London in 1940 when the Blitz is raging and death is always present to its citizens. While they work on their film script Catlin Cole and her boss Buckley (Claflin) develop a verbal sparring match which eventually grows into an attraction for each other.
The understated, self-mocking and wry humour, characteristic of the British, is personified in the film by Ambrose (Nighy) an ageing and impoverished actor who is persuaded to play the part of a valiant sailor who battles through stormy seas to collect 'our brave boys.' When Mrs. Cole and Buckley are told that the script needs to attract American interest, they persuade Ambrose to do a voice-over for the handsome young American (Huston) with perfect American teeth but no acting ability, who is chosen to play a war correspondent caught up in the evacuation from Dunkirk.
Their Finest provides a glimpse into the quiet heroism of people in wartime and another into movie-making techniques of seventy years ago. It does so with a witty, fast paced dialogue and a cast of excellent actors. This is no run-of-the-mill war movie but a clever, well made one which reminds modern audiences of the bravery shown by people in what Winston Churchill called 'their finest hour' and from where the title of the movie is from. This movie is so enjoyable that the BBC may well be contemplating making another about life in wartime. (Jenny Mather)