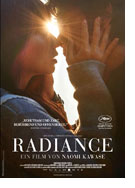 Opening 14 Sep 2017
Directed by: Naomi Kawase
Writing credits: Naomi Kawase
Principal actors: Tatsuya Fuji, Mantarô Koichi, Ayame Misaki, Masatoshi Nagase, Noémie Nakai
Naomi Kawase's award-winning (Ecumenical Jury Prize, Cannes) movie centers on the unlikely romance between a sensitive, young woman, Misako (Misaki) and Nakamori (Nagase), an aging, once-prolific photographer who's rapidly going blind. A story of unusual ties, lost memories, love, longing and impermanence.
Misako, while working as an audio description writer on a film project with a test group, encounters Nakamori, a blind man, who is highly critical of her audio description. A dedicated worker, she painstakingly searches for words to evoke vivid pictures in the minds of her audience. However at the end of the screening, Nakamori doggedly accuses her of being too subjective and forcing her interpretations -- and not what is plain to see -- upon them. Misako takes his harsh words to heart, which forces her to begin to realize that her good intentions do not automatically best serve her audiences and their needs.
Dejected and unsure of her abilities, Misako receives a coffee-table book of Nakamori's acclaimed photography, which gives her insight. She becomes intrigued by the images, and thereby the man who captured them. She pays him a personal visit and comes to understand that he is currently dealing with the effects of a degenerative illness. She is fascinated by a prism hanging in a sunny window and how it plays with light and shadows. She describes the scene to Nakamori objectively, yet full of emotive description. A first intimate exchange hints towards budding romance.
The sub-plot involving Misako's personal life is somewhat flat. Her mother is suffering from dementia, and Misako herself longs for her father, who is mysteriously no longer present. She cherishes his wallet and its contents, including a blurry photograph of the two of them viewing a peaceful sunset. As for the mother-daughter relationship remaining, it's hard to tell if it's love, fear or duty that keeps Misako returning home. Ambivalence leaves the audience not really interested in more.
Cinematographically, sunlight, or more accurately sunsets, and natural scenes are luminously captured and played up. That said, the framing and angling are reminiscent of memorable French 1970s dramas, and maybe that was Kawase's aim to get us thinking about the past, youth.
For the non-Japanese speaking audience, what makes this movie somewhat surreal is that we view it as the sight-impaired characters in Radiance do. We are thrust into the situation played out on screen. We come closer to the strenuously, detailed tasks that go into transferring original meaning and emotions across languages. Powerless, we rely on the German subtitles or the German synchronized version to convey what Kawase set out to achieve. Having seen both, the German language version has much more beautiful and accurate text and the German voice actor for playing Misako was well-cast -- soft, compassionate. A new respect for an often overlooked facet of film making. (Ericka Seifried)