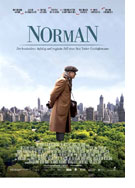 Opening 21 Sep 2017
Directed by: Joseph Cedar
Writing credits: Joseph Cedar
Principal actors: Richard Gere, Lior Ashkenazi, Michael Sheen, Steve Buscemi, Yehuda Almagor
Joseph Cedar's film, Norman, is a film that sneaks up on you, initially a film that one could make a case of being full of cliché stereotypes. But, by closing credits, resist no more, a whole different point of view of Norman (Gere) is seen. The softer side of him, a look into this man's soul that is full of integrity and compassion and ultimately morally doing what is right.
Norman, a native New Yorker (whose motto is "keep swimming and always keep your head above water"), thrives on the meeting, the deal and the ultimate connection. He has the brashness and the 'chutzpah' to invite himself to dinner parties where power and money are the thread of intimate conversations. He cavalierly seeks out people who can help to promote or endorse him so that he has better leverage in his meetings/deals.
The turning point of the film is when Norman rekindles a friendship he established years ago with the now Prime Minister of Israel. The tables turn and he becomes the prey of people wanting to pursue and connect with him.
I wanted to not like the film – to say Norman was just a cliché of an old Jewish New Yorker, a character portraying a want-a-be Bernie Madoff. But unlike Bernie – Norman's exit is one where the piggy bank is full, his anonymous contributions honored and we reflect back with affection and respect of a fixer who came through. (Abby Myers)