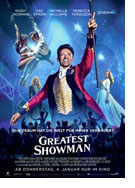 Greatest Showman (The Greatest Showman)
U.S.A. 2017
Opening 4 Jan 2018
Directed by: Michael Gracey
Writing credits: Jenny Bicks, Bill Condon
Principal actors: Hugh Jackman, Michelle Williams, Zac Efron, Zendaya , Rebecca Ferguson
Ladies and Gentlemen! P.T. Barnum's circus is in town with never before seen curiosities and daring live acts promising an unforgettable spectacle. Besides establishing the Barnum & Bailey Circus with James Anthony Bailey in1871, Phineas Taylor Barnum's legacy includes politician and businessman, as well as author, publisher, and philanthropist. A confessed "showman by profession," anyone coming in late will miss the extravaganza's full effect. Sound design accompanied by music starts under 20th Century Fox's logo joining the visuals for a thrilling effect.
Inspired by Barnum's life story, Bill Condon and Jenny Bicks' had their work cut out condensing the circus pioneer's rich background into a loose interpretation just 107 minutes long. Fusing Benj Pasek and Justin Paul's songs with John Debney and Joseph Trapanese's music, and a multi-talented cast under Michael Gracey's direction delivers a fresh, captivating musical drama.
The underprivileged Phineas (Ellis Rubin) and well-off Charity (Skylar Dunn) even as children share a million dreams for a world they could create. Charting their own course as adults, (Jackman, Williams) the journey entails highs and lows, quick-witted kids (Cameron Seely, Austyn Johnson), and a mean-spirited critic (Paul Sparks). Eventually, P.T. and a playwright's (Efron) combined enthusiasms bring about untold outcomes. Curiosities –a dwarf (Fabien Nury), bearded lady (Keala Settle), fire breather (Sasha Gaulin) and giant (Radu Spinghel), and daredevils –trapeze artists (Zendaya, Yahya Abdul-Mateen II), et al. plus royalty (Gayle Rankin), and a Swedish Nightingale (Rebecca Ferguson). The greatest showman's entrepreneurship is profits based, but gives the outcast oddities work, i.e. self-respect, and the masses magical entertainment. All based solely on his visionary resourcefulness, and faith in believing in ourselves.
Charged with originality and artistry, great casting provides fantastic showmanship: ten tracks the cast sings make up the soundtrack album. Great production values –Seamus McGarvey cinematography, Nathan Crowley production design, Laura Ballinger art direction, Debra Schutt sets and Ellen Mirojnick costumes; editor Joe Hutshing's pace hits a bump around the third quarter mark.
Scooting forward in our seats at the wildly daring performers, plus toe-tapping and bobbing to the singing and choreography is like sitting on bleachers under the Big Top. So especially if you have never been to an honest-to-goodness circus, see this rousing, fun film. After 146 years, on May 21, 2017, the USA's last functioning circus closed. Hugh Jackman's spirited P.T. interpretation is mesmerizing. Overflowing with wonder, Greatest Showman promises to put smiles on faces, goodwill in hearts, and remind everyone, "make no apologies, this is me," with P.T. nodding agreement in the wings. (Marinell Haegelin)


Second Opinion

There are musicals which are heartfelt, and beautifully crafted, which could compete even with the most powerful traditional dramas. The Greatest Showman is not one of these. If looked at with a purely critical analysis it would be easy to write the whole thing off as puerile and overly saccharine, and this would not be wrong. For it most certainly is unabashedly silly and over-the-top in pretty much every imaginable way. Yet, like Moulin Rouge (2001) before it, it somehow manages to be so ridiculous that it becomes enjoyable.
Based extremely loosely on the life of the famous showman P.T. Barnum who founded the Barnum & Bailey Circus, where The Greatest Showman succeeds is in being an absolute spectacle. From the opening scene, we are told where this is going. Hugh Jackman strikes a pose, quietly informing everyone that reality is about to be left behind. Then the beat drops and then the audience is flung into a bright scene of obvious computer graphics and shameless positivity. The film doesn't take itself seriously at all, and that is likely for the best, because look too closely, and its failings become all too apparent. In a way, it is a perfect film to represent Barnum's life, for it is all about presenting falsehoods or exaggerations to the public in a manner which they will believe and enjoy. Considering that the real Barnum's life was one founded on exploitation (such as purchasing a blind, elderly slave and working her until her death), it is perfectly in line with his history as a huckster to present his life in such a way that it makes him look like a great, if slightly misguided man, who helped those mistreated by society. It is all about the show after all, and truth comes second to entertainment.
And entertaining it is. With a talented cast, pop-inspired music, and overt statements of inclusivity, it hits all of the spots of the current zeitgeist. There is no doubt that The Greatest Showman will become popular with tweens and teens, and the soundtrack will undoubtedly be a hit. For anyone looking for something fun and silly to enjoy, then this is likely the right choice, but for those who are more critical, it might be best to give it a miss. (Rose Finlay)