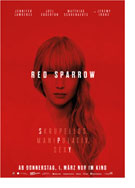 Opening 1 Mar 2018
Directed by: Francis Lawrence
Writing credits: Justin Haythe, Jason Matthews
Principal actors: Jennifer Lawrence, Joel Edgerton, Matthias Schoenaerts, Charlotte Rampling, Mary-Louise Parker
Sparrows are special – an elite class of Russian agents, just as Red Sparrow is an elite espionage thriller. From the outset, the intricate two-pronged storyline demands utmost attention. Because, there are clues scattered like Brothers Grimm breadcrumbs throughout this modern tale of attrition, revenge, and resolution.
Justin Haythe's enticing screenplay is based on Jason Matthews' same titled novel that is surely a page-turner. Francis Lawrence brilliantly directs an ensemble cast: Jennifer Lawrence/Dominika Egorova as a Russian prima ballerina coerced to spy, "There are no accidents… we create our own fate." Joel Edgerton/ Nathaniel Nash is a pivotal American mole, "We don't just throw people away." Plus a likely collection of spies, moles, politicians, friends and family: Matthias Schoenaerts, Jeremy Irons, Charlotte Rampling, Thekla Reuten, Douglas Hodge, Kincso Norah Petho, Sakina Jaffrey, Bill Camp, Mary-Louise Parker, et al. Tension builds in tandem with the thickening plot careening back and forth onscreen. Only at the last frame have all the pieces fallen into preordained places.
Alan Edward Bell's outstanding editing cuts Jo Willems' atmospheric cinematography on a heartbeat as we glide between countries, while James Newton Howard's percipient music exposes, forewarns, and gratifies. Get comfortable, focus, and remember that it is prudent to hold something back if you want to survive, since nothing is what it seems. (Marinell Haegelin)


Second Opinion

Based on a book by Jason Mathews, this spy thriller opens with Dominika Egorova (Jennifer Lawrence) who is a famous dancer until she becomes seriously injured and it looks like her career is over. Since her mom is unable to take care of herself and needs medical support, Dominika has to find a different way to make money. It looks like her uncle has come to the rescue and offers her a job working for the Russian government. So she accepts this offer due to the monetary conditions which ends up being an evil treat: she becomes a Russian spy against her will as she realizes that both her body and her mind belong to the state.
As if things could not get worse, she falls in love with the target person who is working for the CIA. Her mission is to find the mole in the Russian government. As she comes closer to the truth, she now has to plot against the Russian government. They have many spies everywhere so it won't be long before they take notice. It is interesting that Jennifer Lawrence is again cast under the symbol of a bird. In The Hunger Games she was associated with the mocking bird and now she is the Red Sparrow. I wonder what that means about Lawrence.
The scenes are very well done. The music fits to the scene perfectly and moves smoothly from one scene to the next. I will say that it is not a movie for those who can't handle rough imagery. In that aspect it is very well done and extremely realistic. I also enjoyed the historical importance of showing how the Cold War influenced other countries; it is not a story just about Russia and the United States. The brutality of the scenes makes it a harsh movie but if you like action and emotion, this is the right type of movie for you to watch. (Adrian Schoeneshoefer)