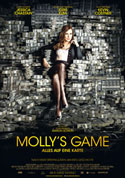 Molly's Game: Alles auf eine Karte (Molly's Game)
China/U.S.A./Canada 2017
Opening 8 Mar 2018
Directed by: Aaron Sorkin
Writing credits: Aaron Sorkin
Principal actors: Jessica Chastain, Idris Elba, Kevin Costner
Based on the true story of Molly Bloom (Jessica Chastain), Molly's Game is the directorial debut of renowned playwright and screenwriter Aaron Sorkin. And, this screenplay adds to his accolades of 'best ever' film scripts.
Molly Bloom's memoir, Molly's Game: From Hollywood's Elite to Wall Street's Billionaire Boys Club, My High-Stakes Adventure in the World of Underground Poker, ends with her FBI arrest which Sorkin notes is the portion of her story that is incredibly compelling. The juicy part that is untold. A reluctant defense lawyer, Charlie Jaffrey (Idris Elba) takes center stage and together the two fight for 'Justice, and Liberty, for all.'
Molly's memoir details her journey: a driven and intelligent child, to an Olympic-hopeful athlete, to the pursuit of law school, to waitressing, to using her entrepreneurial talents to build one of the most exclusive, high-stakes underground poker games in the world. Molly's Game details redemption.
After reading the memoir and meeting with Bloom, Sorkin recalls that he had reservations about turning the book into a film, mostly because of the players who had come to Molly's table. He noted, "She keeps most of the names confidential to protect their private lives but some of the players I knew, others I had worked with and others I would like to work with someday." Adding, "A couple of them are friends of mine."
Molly was not surprised with Sorkin's concerns and, as she shared more of her story with him, he was hooked. He says, "I desperately wanted to write the movie because her developed world of high-stakes gaming came at a great price." He wanted to tell the details Bloom neglected to include in her book. Sorkin says, "I wanted to tell of the process of discovery reflected in her criminal defense lawyer, Charlie Jaffrey (Idris Elba). Sorkin says, "Charlie is a fictional version of her lawyer, Molly did have a criminal defense lawyer." He adds, "When she talks about him, it's with great respect, reverence and affection. Molly even said he was really the first man she'd met that was honorable."
Poker is what drives the plot but Sorkin reflects, "The resonance of Bloom's story comes from Bloom's strength, inner character and ability to beat whatever system she challenges by remaining true to herself." Molly's story is emotional. He adds, "It's the kind of story I like to tell with a quixotic sense of right and wrong." Meaning it's a Don Quixote Syndrome and the faith to dream the impossible.
Sorkin says, "You do not have to be a poker fan to enjoy the movie, but poker fans will appreciate its authenticity." Molly's Game is not about playing poker herself, but she is forever learning the tactics of the game and perfecting her ability to manage people. Molly's one missed character judgement was her downfall and "all the Kings horses and all the Kings men" couldn't put her back together again. (Karen Pecota)