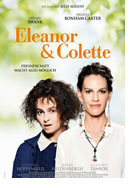 Opening 3 May 2018
Directed by: Bille August
Writing credits: Mark Bruce Rosin
Principal actors: Helena Bonham Carter, Hilary Swank, Jeffrey Tambor, Johan Heldenbergh, Michael Culkin
Eleanor Riese (Helena Bonham Carter) is confined at St. Mary's Psychiatric Hospital in San Francisco. As the film, which is based on a true story, opens, Riese is forcefully thrown onto a thin mattress lying on the floor by several hospital attendants, given an injection in her bare buttocks against her obvious objections and then left in the otherwise empty room where she is ignored. The shot was supposed to calm her, but her face shows the opposite effect. Left in isolation with no toilet and no one to answer her call for help, she has no choice but to relieve herself on the mattress. Outraged at her suffering and her inhumane treatment, she calls a number for patients' rights and is soon visited by Colette Hughes (Hilary Swank), a lawyer who advocates for mental patients.
Hughes is a former nurse with psychiatric nurse experience before she became a lawyer. She understands the drugs and their side effects. In Riese, Hughes sees a patient that can serve as the injured plaintiff in a lawsuit to win the right of competent patients to accept or refuse medications. Riese suffers severe bladder problems from drugs she was given against her wishes during repeated hospitalizations. Hughes alerts professor Mort Cohen (Jeffrey Tambor) about Riese and together they file suit on her behalf with Cohen serving as lead attorney. As the case progresses, Riese returns home where she lives alone. Over time, she and Hughes develop an odd friendship.
The underlying court case is explained well enough with decent performances by Swank and Cohen. The challenges that are faced by Riese and what her illness entails, however, are less clear in the characterization by Carter with her occasional clear-skinned clarity mixed up with fuzzy-haired frazzle. In the second half of the film the plot seems to meander past the legal implications, seeking to delve deeper into the personal relationships, but not quite succeeding. A competent presentation of a complex legal victory for mental patients. (Mary Nyiri)


Second Opinion

From its harsh, gut-wrenching opening sequence to its tender, empathetic closing scenes, 55 Steps is notable. Two esteemed actresses, Helena Bonham Carter (Eleanor Riese) and Hilary Swank (Colette Hughes), portray independent women concerned about (changing) 150,000 people's lives. Jeffrey Tambor (Professor Mort Cohan) excellently portrays the older, experienced mentor guiding these strong-minded, fierce fighters.
Following a terrifying episode at San Francisco's St. Mary's hospital, Eleanor has the wherewithal to phone a pro-bono publico advocacy. Colette takes her case, suffers Eleanor's name-calling, and yet is excited. Because, as she tells fellow advocate, "(I) …think I got our case." Consequently, they roll up their sleeves for the legal battle ahead. Colette remains coolheaded, patient about Eleanor's taxing demands; their relationship undergoes a metamorphosis. The psychiatric establishment may outweigh them in money and clout, but Eleanor, Colette, and Mort are committed, and have faith.
Awards' winning Danish director Billie August sets the tone for Mark Bruce Rosin's facts-based screenplay. Bonham Carter's uncompromising rendition of a mental illness patient viscerally shows psychological and physical stress: imperious, fervent about patients' rights, honest, rude, sometimes sweet, insightful, and often "gravely obnoxious." Her manifestation is absolute, physically repugnant, and totally absorbing. Swank astutely balances her character's overbearing drive, dedication and determination counterpoised by an underlying helplessness, and fear of intimacy. Tambor adds chauvinistic subtleties to spark the tension. The supporting cast intuits solid performances. Annette Focks' music, Filip Zumbrunn's cinematography, and Hansjörg Weißbrich's editing are notable; special kudos to Merijn Sep's production design that transforms San Francisco to 1987 when the trial occurred.
At its heart, 55 Steps is about respecting patients' rights and treating patients with dignity, whatever the illness or age. Whether 5 steps or 55, what matters is, "We can only do our best." (Marinell Haegelin)