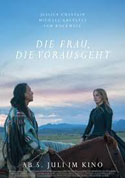 Die Frau, die vorausgeht (Woman Walks Ahead)
U.S.A. 2017
Opening 5 Jul 2018
Directed by: Susanna White
Writing credits: Steven Knight
Principal actors: Jessica Chastain, Louisa Krause, Boots Southerland, Chaske Spencer, Ciaran Hinds
Under opening credits, East Coast portrait painter Catherine Weldon's backstory and solitary journey to the Dakota Territory is sketched in. Catherine's (Jessica Chastain) goal is to paint Lakota Sioux Chief Sitting Bull (Michael Greyeyes). At Standing Rock Agency (part of the Great Sioux Reservation), the condescending Indian Agent McLaughlin's (Ciarán Hinds) low-key wife (Rulan Tangen) is integral to his wellbeing; uneasiness is rife on the Plains on the eve of vote-taking. Sent to oversee the amended Dawes Act of 1887 allotment policy vote, Colonel Silas Groves (Sam Rockwell) often ruffles feathers. Catherine gets Sitting Bull's attention when introduced by his nephew (Chaske Spencer); consequently, Catherine's actions are noticed. Almost simultaneously, the community passes judgment; Ghost Dancers come under scrutiny; General Crook (Bill Camp) arrives with the 7th Calvary, and Catherine's campaign on behalf of fairness intensifies.
Director Susanna White's canvas is lovely, vibrating with full-bodied vistas and characters. Chastain convincingly conveys temperamental artist-cum-activist, including Weldon's Swiss-born accent. Greyeyes typifies the moderate, stalwart leader, and Rockwell has honed the morally conflicted persona. But, Steven Knight's screenplay dabbed layers of fact, fiction, and suggestive titillations leaving many gaps, resulting in a discordant undercurrent for most of the film. White could have utilized the camera's eye to help fill-in blanks, e.g., a scene in town when Catherine has a jarring experience: where was the set-up for audiences?
Fact: Catherine Weldon painted Sitting Bull's portrait; the Ghost Dance Movement; there was a free-for-all land grab from the pre-Christopher Columbus indigenous peoples by European-Americans following the end of the Civil War (1865). But, the Wounded Knee massacre (as described by US Congress in 1990) occurred later, off the reservation against two other Lakota bands.
Mike Eley's cinematography is worthy if unimaginative, and George Fenton's voluminous music adds verve. While Woman Walks Ahead recognizes American Indian's bond with Nature and Wakantanka, as well as this truly independent woman, for a compelling film cleaving closer to facts, it could have rendered a historically significant western canvas. Catherine Weldon was formidable, as was the holy man/war chief Sitting Bull, "Each man is good in the sight of the Great Spirit. It is not necessary, that eagles should be crows." (Marinell Haegelin)


Second Opinion

This is a familiar story, a Western with Cowboys and Indians. The American psyche is fascinated by, yet haunted with the scattered corpses of their battles. In this case the American government is the antagonist, and the Lakotas are the heroes. As a bonus, much of this story is true.
Chief Sitting Bull (Michael Greyeyes), the greatest warrior of the Lakotas, is resurrected from being a potato farmer to make one last (peaceful) stand, this time against the Dawes Act, a government plan to break up tribal lands. He is living on the Pine Ridge Indian Reservation in 1889 minding his own business when headstrong Catherine Weldon (Jessica Chastain) a Brooklyn, New York socialite decides to have an adventure out West. She is a pretty, perfectly groomed painter who thirsts for freedom after the death of a domineering husband. Bucking conventional norms, she boldly travels to the reservation to paint a portrait of Sitting Bull. A budding feminist, Catherine resolutely survives brutality and scorn and befriends Sitting Bull who fittingly dubs her Woman Walks Ahead. With the best of intentions she encourages him and the Lakotas to rebel and vote against the Dawes Act. Such liberal, East Coast activism is suspicious to the troops and the government agents keeping an eye on the tribe. Colonel Silas Groves (Sam Rockwell) does everything a redneck macho can do to woe her away from the chief, and send her packing back to Brooklyn.
The director Susanna White is telling a woman's story, yet she doesn't add soft filters to the lens of violent history. Cinematographer Mike Eley captures the magnificent beauty of the big sky country; his camera wistfully lingers on a way of life almost completely destroyed. Jessica Chastain as Catherine and Michael Greyeyes as Sitting Bull perfectly embody their roles. Sam Rockwell as Colonel Groves, shows a hint of humanity beneath the despicable character he plays much like Jason in Three Billboards Outside Ebbing, Missouri.
Woman Walks Ahead is a love story, and like a traditional Western, weaves its tale of passion with furtive, meaningful glances. There is a much larger story to be told. And somehow, that's just fine. (Pat Frickey)