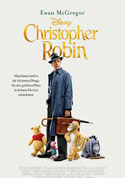 Opening 16 Aug 2018
Directed by: Marc Forster
Writing credits: Alex Ross Perry, Tom McCarthy, Allison Schroeder, Greg Brooker, Mark Steven Johnson
Principal actors: Ewan McGregor, Hayley Atwell, Bronte Carmichael, Mark Gatiss, Oliver Ford Davies
Like the original storybook, and with an A.A. Milne and E.H. Shepard inspired screenplay, Marc Forster and Disney give a new twist to Christopher Robin, Winnie the Pooh and the Hundred Acre Wood. Disney's longtime affiliation with Winnie-the-Pooh stories began with Winnie the Pooh and the Honey Tree in 1966. Christopher Robin tickles audiences' fantasies to rejoin that lovely, imaginary world by combining live-action and computer-generated imagery just like characters in the books.
Quick opening chapters reintroduce Christopher Robin (Orton O'Brien), his woodsy friends, his departure to "nowhere," and entering adulthood. Chapter Present: Husband and father, the Winslow Luggage workaholic's life revolves around efficiency, and cost-effectiveness. Instead of going away this weekend, he is working. Meanwhile, the honey-loving plush bear puzzles over "what has happened to my friends." In one tree-door, and out another in London, Christopher Robin's (Ewan McGregor) disbelief at seeing Winnie the Pooh (Jim Cummings voicing plus Tigger)—"Pooh" for short—turns panicky until realizing the best way to help them both is taking Pooh home.
What an adventure they have, too. Pooh sees many amazing things, rides a train, and plays "sleeping" when Christopher Robin tells him, "people don't like things that are different." Pooh even sees the Evelyn (Hayley Atwell) and the Madeline (Bronte Carmichael). Entering foggy Hundred Acre Wood, Christopher Robin's threadbare patience snaps – he yells! But then the Heffalump shows up… eventually he comes across Eeyore (Brad Garrett), Piglet (Nick Mohammed), Rabbit (Peter Capaldi), Kanga (Sophie Okonedo) and Roo (Sara Sheen). It transpires by helping Pooh find their friends, Christopher Robin finds way to "somewhere." Just as Madeline and gang's adventure benefits "the father of little brain;" old man Winslow (Oliver Ford Davies) listens, whereas thankless boss/son Giles (Mark Gatiss) does… the expected.
Cutting to the chase: the cast, and Voice actors, is magnificent. The perceptive screenplay is delightful with a broad emotional scope, and wit. Matt Chesse's unerring editing pacing pulls us in, and then delivers. Blended in the mix are Jon Brion and Geoff Zanelli's music, and Matthias Koenigswieser's cinematography. Legendary Richard Sherman's songs add uniqueness: the iconic "Winnie the Pooh" from the 1966 featurette, plus two other past songs, and three new songs, "Goodbye Farewell", "Busy Doing Nothing" and "Christopher Robin." Undeniably, animation teams worldwide deserve gratitude.
How many remember when doing nothing was… doing something? With the same timelessness as the original books lovable, enduring characters, the analogy is clear: lives pass as quickly as the pages turn. Christopher Robin has the markings of a classic; as end credits. roll, the outcome of upside down thinking is sung, so wait for it. "It's always a sunny day when Christopher Robin comes out to play." (Marinell Haegelin)