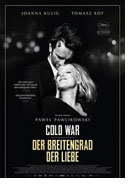 Cold War – Der Breitengrad Der Liebe (Cold War, Zimna wojna)
Poland/France/U.K. 2018
Opening 22 Nov 2018
Directed by: Pawel Pawlikowski
Writing credits: Pawel Pawlikowski, Janusz Glowacki, Piotr Borkowski
Principal actors: Joanna Kulig, Tomasz Kot, Borys Szyc, Agata Kulesza, Cédric Kahn
Pawel Pawlikowski co-wrote and directs this moody reflection on individuals impacted by events they have no control over. The protagonist's love story is as tenuous as the setting – Europe as World War II ends and the ensuing Cold War gains momentum.
Opening on a winter's landscape in 1949 Poland, a trio's old VW van throws shape and texture on the vastness of nothingness. Wiktor (Tomasz Kot), Irena (Agata Kulesza), and Kaczmarek's (Borys Szyc) quest is to preserve traditional folk music. Once an ample amount is collected, they hold tryouts, and a troupe of young performers is formed. Competition is formidable; one young woman selected is Zula (Joanna Kulig), whose voice, name and mannerisms vibrate with originality. In short time, Wiktor is completely smitten. When the company performs for the People's Party in 1951, it changes the course of destiny, particularly for Zula and Wiktor. A long-time lover of jazz music, nonetheless Wiktor swears love to Zula. The troupe performs in East Berlin in 1952; a plan is set in motion, and what remains to be seen are who passes through the checkpoint, and when. What follows are consequences for their choices made that day.
Lukasz Zal's cinematography exquisitely composes and transposes the conflicting cultural staging, and emotions that Jaroslaw Kaminski edits. Nostalgia permeates Production Design, Set Decoration, and Costume Design. Shot in Black/White celluloid, its crisp effect is unfortunately lost when seen in digitally projected cinemas. That said, this supposedly semi-autobiographic homage to Pawlikowski's parents required workable content to muster emotional investment from audiences. Co-mingling homeland vs. exile themes without an anchor, the storyline is hard to follow as it jumps around Europe negligibly reducing any relevance to the Cold War. Wiktor's love for Zula is obvious, but reciprocation appears nebulous diluting the narrative further; chemistry between the lead characters is absent.
Its aesthetic brilliance, fine editing, and delightful music offset Cold War's insubstantial story. Memorable are song and dance production numbers, as well as jazz scenes set in Paris clubs that assure viewing pleasure. (Marinell Haegelin)