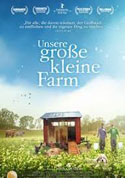 Unsere große kleine Farm (The Biggest Little Farm)
U.S.A. 2018
Opening 11 Jul 2019
Directed by: John Chester
Writing credits: John Chester, Mark Monroe
Principal actors: John Chester, Molly Chester, Matthew Pilachowski
"Who saved who?" In producer-director-cameraman John Chester's documentary, Mallory Cunningham, Benji Lanpher, Chris Martin, and Kyle Romanek assist John with the stupendously breathtaking camerawork. Their mastery promises, "you will see things you never saw before," plus meeting many of the Chesters' two- and 4-legged friends and seeing nature's mysteries, accompanied by George Fenton's artistically distinctive music.
Based in Los Angeles in 2010, John's work (film/television cameraman) brought him and Todd together, with Molly's blessing. When their pooch's barking gets them evicted, common sense dictates. Enter Molly's dream: a personal chef with a cooking blog, she dreams of preparing food with self-grown products. Bridging that gap to Apricot Lanes Farm is a wonderfully clever, playful and naively drawn (Jason Carpenter) animated sequence. An hour drive north of L.A., the only thing the 200-acres (81 hectare) farm lacked, and had for years, was tender loving care. That resulted in dead soil, dry and untended fields, and derelict property. Under Alan York's tutelage, a biodynamic consultant and horticulturist, the "rhythm of farming" is reborn. As Alan points out, "[There is] never enough time to do it wrong, but enough time to do it over." He realistically outlined how and what to do when.
Co-writers John Chester and Mark Monroe's imprecise script, and Amy Overbeck's strict editing attribute to the film's biggest small deficiency. They sparingly illustrate progress during the early months and years, are dismissive of effects from natural catastrophes, and after one referral to their budget at the 6-month point, expenditures are ignored, including for workers. By now involved, we want to know more. An additional 5-minutes or less—there are plenty of editing techniques available—would have made the difference.
For this small farmer's granddaughter, the Chesters missed an opportunity to compellingly broaden awareness. Many people have little concept of farming and farmers' dependency on and union with nature's cyclical process. While urbanites suffer discomfort during heat waves, farmers can suffer loss of livelihood. Still, The Biggest Little Farm's rejuvenating power for a green planet is like rain to drought-ridden land. (Marinell Haegelin)