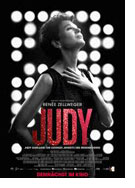 Opening 2 Jan 2020
Directed by: Rupert Goold
Writing credits: Tom Edge, Peter Quilter
Principal actors: Renée Zellweger, Jessie Buckley, Finn Wittrock, Rufus Sewell, Michael Gambon
Even fifty years after her death, Frances Gumm's extraordinary legacy stirs recognition. A beloved, talented performer, Judy Garland films tracked the nation and its citizens progress: adventure and fantasy (The Wizard of Oz, 1939), family life and romance (Andy Hardy Meets Debutante, 1940 with Mickey Rooney, Meet Me in St. Louis, 1944), love (The Harvey Girls, 1946, A Star Is Born, 1954), plus dramas (Judgment at Nuremberg, 1961, A Child Is Waiting, 1963). Judy's stage/club performances included those at London's Talk of the Town in the 1960s. Director Rupert Goold, with Tom Edge's screenplay based on Peter Quilter's End of the Rainbow stage play, concentrates on that 1968 five-week unpredictable stint.
Flailing professionally and personally, having a well-earned reputation of being difficult to work with, Judy (Renée Zellweger) acquiesces to the London gig. She and Sidney (Rufus Sewell) are wrangling over custody of Lorna (Bella Ramsey) and Joey (Lewin Lloyd), particularly since Judy cannot afford proper living conditions. Once in London, she is dismissive of the club-provided personal assistant, Rosalyn (Jessie Buckley), is perfunctory with the owner, Bernard (Michael Gambon) yet impresses the band and its leader, Burt (Royce Pierreson). Subsequent to appalling onstage behavior and public emasculation, Bernard grants Judy a reprieve; the respite is brief, however. The much younger Mickey Deans (Finn Wittrock) materializes, ingratiatingly simpatico. Promising Judy the moon, instead a cantankerous Mickey delivers a lemon that sends Judy into an unrecoverable tailspin.
Headlining the commendable cast, Renée Zellweger's physical mimics are mesmerizing and her voice remarkably good, albeit why Garland's unique voice was not lip-synced is puzzling. The daughter of vaudevillians Frances performed from age two, began working under contract at 13 for MGM as Judy Garland, and while still a teenager starred in 12 films. At 18, MGM exploitatively introduced Garland to pills, alcohol, and psychiatric treatment. By 23, Judy was an addict and divorcé. To put in context, Hollywood's Golden Age all-controlling "Big Five" studios owned rosters of popular actors; it took World Wars, the 1948 Hays Bill, the Republican-led House Un-American Activities Committee (HUAC) targeting Hollywood, and the 1950s McCarthyism era to quash that mindset.
Having chosen a particularly rough period in Judy Garland's too short and tragic life, Goold and editor Melanie Oliver maddeningly keep flashing back to her MGM years with Louis B. Mayer (Richard Cordery). Additionally, Goold's sloppy direction elicits stiff, anticipatory performances, particularly Buckley as Rosalyn—where is the spark evident in Wild Rose?
Everything about Judy seems as tangential as the iconic Garland was throughout her life, before the demons prevailed and the spotlight went out forever. Obviously not a cozy, feel-good Holiday flick, waiting for at-home watching might go further toward viewing pleasure. (Marinell Haegelin)


Second Opinion

The final, sad months of Judy Garland (Renée Zellweger) are the focus of this less-than-complete biopic. The star of her brilliant career has burned out and her alcohol and drug addictions have made her an unreliable, therefore an unemployable entertainer. Broke and out of options, she lands at her ex-husband's, Sid Luft (Rufus Sewell), house where she is forced to leave her younger children while she goes to London for a series of concerts.
Flashbacks to her early career jump on the current bandwagon of exposing the abuses of Hollywood shot callers. The scenes of the creepy Louis B Mayer (Richard Cordery) bullying her and preying on her insecurities coupled with the unending doling out of diet aids and sleeping pills to control her Hollywood image certainly make for a strong case as the cause for her struggles, but a more comprehensive examination of her life would have certainly unearthed other contributing factors. And, in an ironic twist, one could argue that these filmmakers are also exploiting her weaknesses to further their message of an abusive Hollywood climate.
There are strong performances throughout, especially by Renée Zellweger. Her portrayal of Judy was dead-on and will most likely earn her an Oscar nod. The musical numbers were also stirring and sometimes tender. However, the unrelenting focus on Judy's problems caused the movie to drag. We get it, she was a mess. So much of this actually worked against making her a more sympathetic character. There were only glimpses into her wit, insight, and compassion. A more thorough examination of her as a person would give a better picture of why she was an amazing and well-loved entertainer. It most certainly would have been a richer film of her life instead of focusing on her demons. (Anne Crocker)


Third Opinion

This biopic tells the tale of Judy Garland (Renée Zellweger), who from the ripe age of 14 including her life on stage has dazzled audiences worldwide, up until her final London Tour in 1969.
As a child star, Judy never had her way. She was drilled by her ever present manager Louis B. Mayer (Richard Cordery), always to be the best version of herself. Her childhood years were spent on stage, perfecting her performance and training her voice.
Years later, in her forties, Judy strives to be the perfect mother, although she is not in the position to offer her two children the stability and the home they need. She is forced to take them back to their father and her fourth husband Sid Luft (Rufus Sewell), who battles and wins custody of their two children. Bankrupt and sleep deprived, Judy seeks a way to make her living. She is offered a series of concerts in London but the cost is high, leaving her darling children behind, although she swears to return and to make a home for them. Judy takes on London but there are too many obstacles in her way. Sleep deprived leading to exhaustion, Judy falls into her own trap of substance abuse and soon she loses control and spirals into physical and mental exhaustion.
The film is a wonderful tribute to Judy Garland, an icon of our time. Renée Zellweger as Judy dazzles the audience with her spirit and grace. (Charis Habertag)