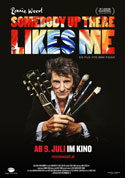 Ronnie Wood: Somebody Up There Likes Me (Somebody Up There Likes Me)
U.K. 2019
Opening 9 Jul 2020
Directed by: Mike Figgis
Writing credits:

For 60-plus years the Rolling Stones reigned as rock-star marvels and its longtime artists are walking icons. None more so than Ronnie Wood, guitarist and first to admit he got a "get out of jail free card" to director Mike Figgis in the opening sequence of this too short documentary.
According to Ronnie, growing up in Hillingdon, England in the late 1940s the family liked drinking, smoking, and carrying on while enjoying life. His reminiscing moves from his first guitar and the back room where he and brothers jammed with friends from Art College to his personal discernment toward various music styles. Inserted between relevant stages of Ronnie's life are interviews with Dublin singer-songwriter Imelda May, and successful British artist Damien Hirst; as well, we watch Wood while working in different art mediums with female models. Professionally, Wood began playing guitar with the Birds (1964), meandered to the Jeff Beck Group playing bass guitar with Rod Stewart as vocalist that then evolved to Faces in 1971. Although the musicians knew of one another, with Mick Taylor's 1974 sudden departure, Mick Jagger asked Wood to join them. Jagger, Keith Richards, and Charlie Watts' with input from Wood tell how destiny designed history.
Editors Matt Ashton and Matthew Longfellow assembled a concise, precise — a sequence of the four talking about getting together is brilliant —film that Rosey Chan's music lightly accents with cinematography by Conor Connolly, Jaimie Gramston and Andrew Muggleton. Wood is candid throughout: when Figgis asks, "Are you an addictive person or did you become that way?" Wood responds, "Yea, that's the question." Although Figgis' film is scant considering the subject matter, the archival material and original tunes from Wood makes this a foot tapping, entertaining film. (Marinell Haegelin)