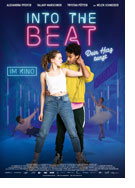 Into the Beat - Dein Herz tanzt
Germany 2020
Opening 16 Jul 2020
Directed by: Stefan Westerwelle
Writing credits: Hannah Schweier, Stefan Westerwelle
Principal actors: Alexandra Pfeifer, Yalany Marschner, Ina Geraldine Guy, Trystan Pütter, Helen Schneider
Set in Hamburg, Katya (Alexandra Pfeifer) trains hard in a highly prestigious ballet school, preparing for an upcoming audition for the New York Ballet Academy. She has an excellent chance of being awarded a valuable scholarship, since she is not only talented but also comes from a family of ballet dancers. It's in her blood. Yet, she is still dealing with her mother's recent and unexpected death, when she's also witness to her father's (Trystan Pütter) fall at an opening performance. Her nerves are badly shaken. Suddenly, she feels not only an immense pressure to do everything perfectly, but also to take extra care of her father and brother. She is more determined than ever to achieve her father's wishes: that of attending the New York Ballet Academy.
One evening, her bicycle breaks down and she meets a group of street dancers, who show her a new kind of dancing from a completely different world. Katya feels the freedom that she doesn't have with the classical ballet that she's danced for years. She is caught between her father's wishes or to learn more about this street dancing through her new friend, Marion (Yalany Marschner), who also harbors a dream: to audition with the world-famous street dancing troupe, Sonic Tigers, and travel the world with a partner. The drama is fitting to the Hamburg lifestyle: all characters can easily be found hanging out on the streets of Hamburg. We also see the wealthy and the famous, which co-exist here but are rarely seen. Although this film is a bit too 'clean', with a storyline too unrealistic to my liking, I am sure that those who love dance will fall for this exciting fairytale. The choreography keeps the energy flowing until the end, which makes this film perfect for those dance-enthusiast teenagers to find their dreams. (Shelly Schoeneshoefer)


Second Opinion

Alexandra Pfeifer as Katja and Yalany Marschner as Marlon steal the show as they boogie in to the beat of this lively flick. Director Stefan Westerwelle co-scripted the screenplay with Hannah Schweier; they take on a popular tried-and-true formula dance sub-genre theme, this time by pitting classical vs. hip-hop. The competition could be awesome, considering the length and breath of the contemporary music genre's popularity.
Ballet is in Katja's blood according to her father, the preeminent classical ballet dancer Viktor (Trystan Pütter). Just as she is favored as the advanced students at the ballet schools prepare for a major competition, "Don't disappoint us," Frau Rosebloom (Helen Schneider) reminds them. Then one fateful evening, subsequent to Viktor's onstage mishap during a performance, Katja serendipitously meets Feli (Ina Geraldine Guy). Katja joins Feli's group en route to "Badland" and is introduced to wildly interpretive street dancing. Afterward, Katja tries out Feli's dance class, is out of her depth with the music and moves, albeit the rhythm wiggles its way into her blood. Just as Marlon into her heart when they partner-up for a competition. Although she still has dad, family, and her defined destiny to bear in mind. Surprisingly, Katja gets the best advice from the least expected source.
Westerwelle and Schweier's screenplay misses the beat with this mundane storyline by not developing a clear focus. The ballet and street dancing scenarios have equal billing with sequences that bridge that nebulousness, and there are glitches in continuity. Composer Philipp Fabian Kölmel's soundtrack is foot-tapping fun, and Martin Schlecht's camera is invigorating as it follows the action through Hanseatic Hamburg, along with choice harbor shots. (Marinell Haegelin)